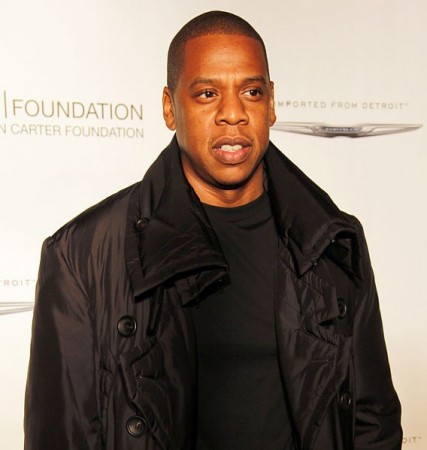 Jay Z sparked controversy last week, when he was spotted wearing a medallion that belongs to Five Percent Nation, an offshoot of Nation of Islam, which preaches some racially charged beliefs.
On April 1, the rapper was photographed at a Brooklyn Nets game wearing a medallion featuring a star with the number seven in the middle. The bling is believed to be a symbol of Five Percent Nation and when a New York Post reporter asked him if the accessory meant something to him, Jay Z replied, "A little bit."
It is not yet known if Jay Z endorses the beliefs held by the group. Some core tenants are that black men are superior to whites, the Christian God is a ghost, whites are the devil, and that only five percent of the world's population understand the world.
"The rationale is that the black man is God and created the universe, and is physically stronger and intellectually stronger and more righteous naturally," Michael Muhammad Knight, an author of two books on the radical group, told the publication.
"Whiteness is weak and wicked and inferior — basically just an errant child who needs to be corrected."
Commenting on if Jay Z subscribes to the beliefs held by the group, a representative of the Five Percent Nation told The Post that he wouldn't be wearing the medallion if he did not believe in its tenants.
"Jay Z is not an active member — no one has vouched for him" Saladin Allah, a representative of the group's upstate region, told The Post. "It was always understood that you don't wear the ­regalia if you don't totally subscribe to the life."
Interestingly, this is not the first time Jay Z has worn the bling. Last year, the rapper appeared for two radio interviews to promote his album Magna Carta Holy Grail wearing a similar medallion.
Meanwhile, the rapper's choice of accessory has come under attack from Twitter users who have called Jay Z a black supremacist.
"Think of all the whities making him filthy rich," wrote one angry user, while another added, "Its time to call a spade a spade! Jay z is a racist…anyone else who is a member of the same gang as he should not have endorsements."
Another message called for a boycott of Jay Z's albums. "All the WHITE DEVILS should stop buying his records, and anything else tied to him and Beyonce."
(Edited by Vanilla Sharma)