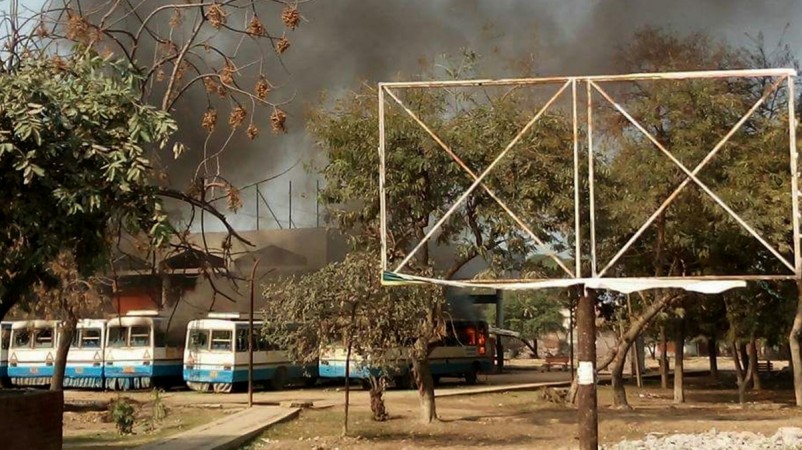 Update, 12:57 pm: The toll in the violence that erupted during the Jat community's protest in several districts in Haryana reached 10, Haryana Director General of Police (DGP) YP Singhal reportedly said Sunday.
The situation has "comparatively improved", and the police have registered a case against 191 protesters, ANI quoted Singhal as saying.
At least 69 columns of the Indian Army have been deployed in the eight affected districts and majority have been sent to Jhajjar and Rohtak, the DGP said. Around 49 companies of paramilitary forces have also been sent, of which 39 have already reached Haryana, he added.
Meanwhile, the state is working to resume water supply to Delhi, which was stopped on Saturday after Jat agitators damaged a key supply point at Haryana's Munak canal.
There have been 10 causalities and around 150 got injured- YP Singhal, Haryana DGP #JatReservation pic.twitter.com/40GoL9uNd7

— ANI (@ANI_news) February 21, 2016
Army 69 columns have reached #Haryana and have been deployed, max deployed in Jhajjar and Rohtak- YP Singhal,DGP pic.twitter.com/AIcLf71DxX — ANI (@ANI_news) February 21, 2016
Original Story:
At least six people have reportedly been killed in protests in Haryana where the Jat community has been demanding reservation under Other Backward Classes (OBC) category in government jobs and educational education. The protest have led to water crisis in Delhi as a major supply link to the national capital has been damaged by the protesters.
While one person was killed on Friday, five more died in police firing Saturday, the Indian Express quoted an official statement as saying. Of the six, four died in Jhajjar and one in Kaithal. At least 15 people, including security personnel, were also injured in the clashes.
The Jat protesters were killed on Saturday "when armed forces opened fire to quell arson and firing" by them. Death toll could reportedly reach 10.
The Haryana government imposed curfew in the Rohtak and Bhiwani districts of the state Friday. It was extended to five more areas — Jind, Jhajjar, Sonepat, Karnal, Kaithal and Hisar — Saturday. Shoot-at-sight orders have been issued in all the seven districts.
About 13 columns of the Indian Army have been deployed in eight districts, while 30 companies of paramilitary forces have been sent to 10 districts to maintain law and order. The violence occurred despite the presence of security personnel in the affected areas.
The protesters in Rohtak, Jind, Panipat, Sonipat and Kaithal set fire to several buses, while several shops, restaurants and hotels were also burnt down in Rohtak and Jhajjar.
They also set fire to eight railway stations, including one in the Jind district, and uprooted the tracks, according to reports.
The Budha Khera Railway Station in Jind was set ablaze Saturday, forcing the government to impose curfew in the district, NDTV reports.
Water crisis in Delhi
The protest led to a major crisis for the national capital as well, as Jat agitators damaged a key water supply link to Delhi during protest on Saturday. Delhi now has water supply sufficient for Sunday morning.
The state administration had to shut down seven water treatment plants after protesters broke the control apparatus of the Munak canal in Haryana, Hindustan Times quoted senior ministers as saying. The damage affected water supply in Dwarka, Janakpuri, Munirka, Palam, Rajouri Garden, Punjabi Bagh, Vasant Kunj, Saket, Green Park and Lodhi Colony.
"We are left with no water now, this morning's supply was the last one," Delhi Water Minister Kapil Mishra told ANI.
At least 760 tankers will be sent to affected areas in Delhi from Sunday, HT quoted Mishra as saying.
Delhi Chief Minister Arvind Kejriwal has issued orders to all government and private schools to remain closed on Monday due to the water crisis. The Supreme Court is likely to hear the Delhi government's plea related to the water crisis on Sunday.
"We have moved SC on water crisis. The petition will most probably be heard Sunday," Mishra said.
Meanwhile, Kejriwal has asked he public to save water as the government will ration its supply "equally among all", barring the President, prime minister, defence installations, hospitals and fire brigades.