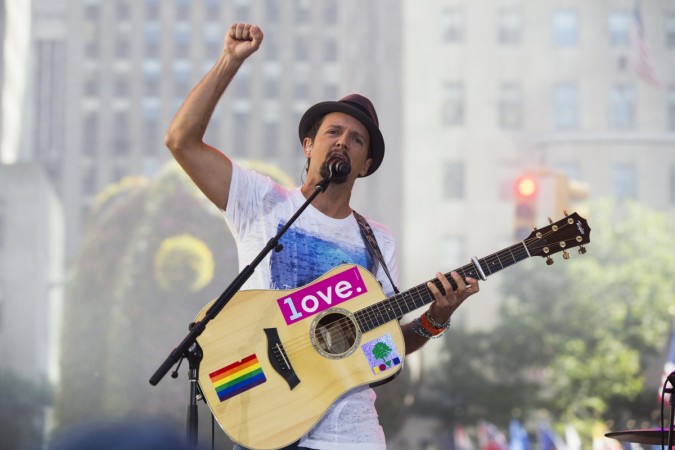 Jason Mraz has become the latest victim of celebrity death hoax. #RIPJasonMraz went viral on Twitter, making many believe that the 37-year-old singer is dead but it has turned out to be just another celebrity death hoax, joining the likes of Shakira, Betty White, Dwayne Johnson, Dennis Haskins and others.
Satirical website Media Mass reported that rumours of the "I'm Yours" singer's death spread on Tuesday after "R.I.P. Jason Mraz" Facebook page got one million 'likes'. It went on to say that the description of the page reads: At about 11 a.m. ET on Tuesday (September 16, 2014), our beloved singer Jason Mraz passed away. Jason Mraz was born on June 23, 1977 in Mechanicsville. He will be missed but not forgotten. Please show your sympathy and condolences by commenting on and liking this page."
However, "R.I.P. Jason Mraz" Facebook page can't be traced, giving a clear hint that it's just a hoax. Moreover, the singer has twitted, hinting that he is alive and well.
The peoples climate march. This Sunday. Perfectly aligned on a day off! Join us. http://t.co/wZOskOzDYw

— Jason Mraz (@jason_mraz) September 18, 2014
Meanwhile, the Grammy Award-winning singer lent his helping hand in transformation a waste land in Williamsburg, Brooklyn into a community garden on Wednesday, digging the soil and building storage bins with the locals, according to DNAinfo New York.
"If I hadn't been a singer-songwriter, I would have been a landscaper," Mraz was quoted as saying by the website.
Jason Mraz performed at the Wang Theatre last week, belting out some new songs besides his hit numbers. "I've found myself in this realm of positive music lately," The Boston Globe quoted him as saying. "I don't wake up under the rainbow; I have to make the rainbow."
According to The Boston Globe, Mraz's latest album, "YES!" is "a collaboration with the California four-piece Raining Jane." The duo made a formidable pair, sounding good together. Mraz also sang "Everything Goes Quiet," from "YES!" album before taking on "I'm Yours" and cover of Boyz II's "It's So Hard to Say Goodbye to Yesterday" towards the end of the show.