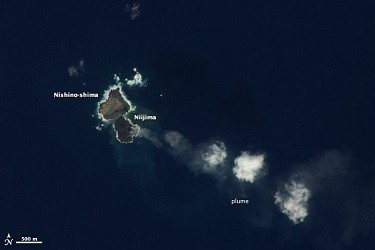 Japan's volcanic island, Niijima located in the Philippine Sea has grown in size ever since it first emerged last November, and has now consumed its nearby island Nishino-shima.
The merging of the islands was clearly seen from satellite images captured by NASA's Earth Observatory on 30 March.
Niijima emerged out of the sea as a result of volcanic eruption in the western Pacific Ocean and sits about (550 yards) 500 meters from the older Nishino-shima, which was formed from a volcano that erupted 40 years ago. Due to its continued eruption, Niijima merged with its sister volcanic island, Nishino-shima.
The new island is about 3,280 feet across and is 196 feet above sea level. The Bonin Island chain, where both Niijima and Nishino-shima are situated comprises of 30 small islands, all of which were formed by the outburst of an ancient underwater volcano.
100 different kinds of indigenous plants and 14 breeds of animals have evolved in the islands over the time.
The images of Nishino-shima prior to it being swallowed up by Niijima were captured by NASA's Operational Land Imager. The images were taken on 30 December 2013 and 30 March 2014.
When Niijima first erupted, experts believed it would soon trip back under the sea, but there is no apparent sign of it disappearing, as it have merged with Nishino-shima and is continuously growing. The new island is expected to last longer than expected, according to Japanese scientists.
"A lot of it depends on how fast it erodes. Until it shuts off, it's too soon to tell." CNN News quoted Ken Rubin, a professor of University of Hawaii at Manoa and expert in deep submarine volcanism.
The newly merged island is about 1,000 kilometers (600 miles) south of Tokyo in the Ogasawara Islands, also known as the Bonin Islands.
Photo Credit: Earth Observatory, NASA
(Edited by Vanilla Sharma)