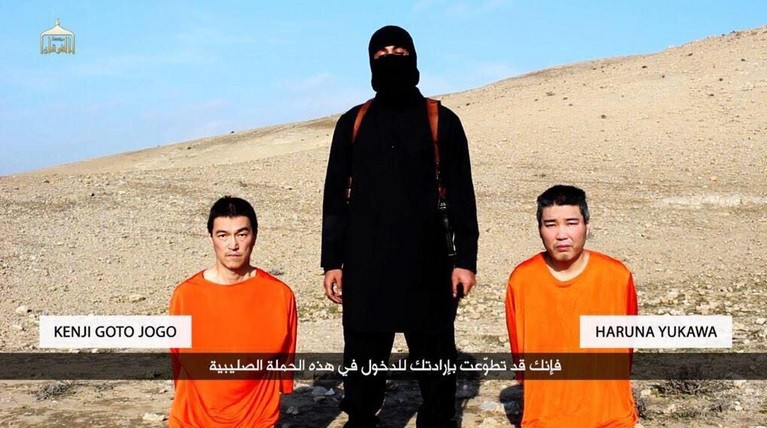 Two Japanese men Haruna Yukawa and Kenji Goto held captive by the Islamic State in exchange of a ransom of $200 million are awaiting Japan's response, even as Prime Minister Shinzo Abe has condemned the act as "unforgivable". Abe has also declared that saving the two lives is Japan's top priority.
Haruna Yukawa
Yukawa, described as the chief executive of "Private Military Company" on a Facebook page, is said to have been captured in Syria in 2014. Reuters had reported that the 42-year-old widower had first traveled to Aleppo four months earlier in an attempt at self-discovery.
It is gathered that in the last decade Yukawa lost a business, his wife to lung cancer and his house to bankruptcy and was forced to live in a public park for almost a month. Believing that he was the reincarnation of the cross-dressing Manchu princess, who had spied for Japan in World War II, he tried to cut off his genitals and changed his name to a more feminine-sounding Haruna.
Yakuwa garnered widespread attention in Japan when footage of his apparent interrogation while in ISIS captivity was posted online. In the video, he was seen lying on the ground, stained by dust and sweat, as blood trickled down his face. He provided short answers to questions regarding his identity.
He had said "I'm no soldier" during the interrogation.
Kenji Goto
Goto, a freelance journalist who established "Independent Press" -- a video production company that supplies documentaries on the Middle East to Japanese televtision networks -- in 1996 has been reported missing since late October. He was on his way back to Japan when Islamic group captured him.
According to abc, his wife had received an email demanding a ransom of one billion yen ($8.5 million), which came from a person claiming to be an Islamic State group member, who was implicated in the killing of US journalist James Foley.