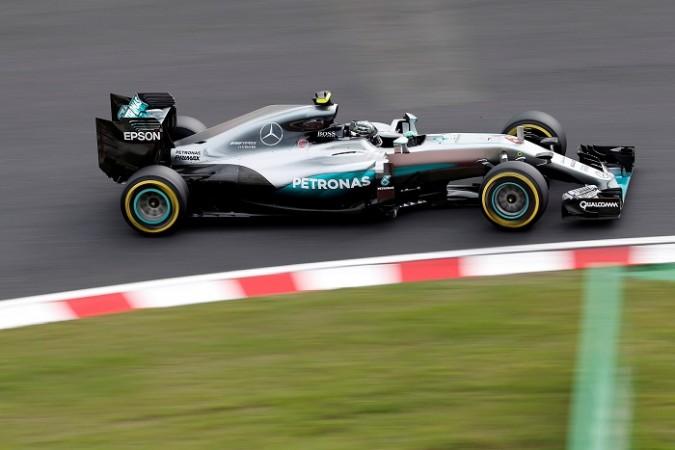 Lewis Hamilton will have to drive a perfect race on Sunday if he is to win the Japanese Grand Prix after his Mercedes teammate Nico Rosberg took pole in the qualifying session at Suzuka on Saturday.
Needing a pole of his own to keep the pressure on Rosberg, who has enjoyed a wonderful second half of the season, Hamilton did his best, but fell short marginally as the German sealed top spot with a wonderful flying lap right at the end of Q3.
This has been one of those weekends so far for Hamilton, where he has just struggled to put a faultless lap together. In Q1 and Q2, Nico Rosberg looked in control and every time Hamilton looked like matching him or even bettering his teammate, an understeer here or an oversteer there would foil his plans.
Hamilton had plenty of laps where he was staying with Rosberg's time, only to lose a few tenths of a second in a sector, which would in turn make it impossible to set the fastest time in qualifying.
That seemed to change in the early part of Q3, when Hamilton set the fastest time at 1:30.758, with Rosberg .195 behind his teammate.
But then, you knew Rosberg, who leads the drivers' championship standings by 23 points from Hamilton, was going to make a charge in the final run of Q3, and so he did, driving that flawless lap to take pole, in a time of 1:30.647. Hamilton was unlucky, as his own final flying lap left him with a time of 1:30.660, just behind his teammate.
Ferrari locked up the second row, with Kimi Raikkonen (1:30.949) and Sebastian Vettel (1:31.028) taking third and fourth on the grid, while the Red Bulls of Max Verstappen and Daniel Ricciardo were fifth and sixth respectively. Verstappen timed 1:31.178, with Ricciardo not too far behind at 1:31.240.
The Force India drivers Sergio Perez and Nico Hulkenberg finished seventh and ninth respectively, with Romain Grosjean of Haas sandwiching the two. Grosjean's teammate Esteban Gutierrez will start from tenth on Sunday.
For the full qualifying results and timings click HERE