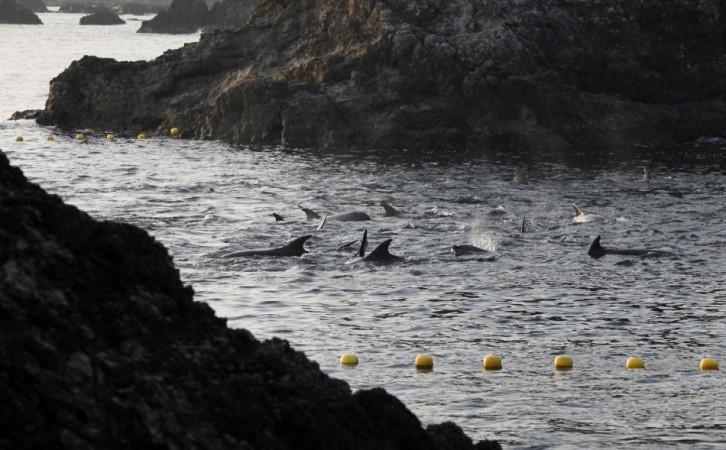 The brutal killings of about 30 dolphins in Taiji, a Japanese town in the Wakayama Prefecture, have outraged the international community, but Japan is defending the action calling it a tradition.
Every year, fishermen from the coastal town of Taiji drive hundreds of dolphins into a cove, where a majority of these marine mammals are culled for their meat.
This year's dolphin hunt ended on Tuesday with the killing of at least 30 dolphins from a pack of 200 that were held in a Taiji cove, according to NBC News. About 50 dolphins were driven away to be sold to aquariums, and the rest were released, the report said.
Soon after, government officials released a statement pointing out that the dolphin hunt was part of Japanese culture.
"Dolphin fishing is a form of traditional fishing in our country," Japanese Chief Cabinet Secretary Yoshihide Suga said during a news conference in Tokyo, the Los Angeles Times reported.
According to the LA Times report, Wakayama Prefecture too issued a statement noting that dolphin deaths were portrayed "in a manner designed to excite outrage."
"The Taiji dolphin fishery has been a target of repeated psychological harassment and interference by aggressive foreign animal protection organizations," the local government statement said.
Despite strong backlash from the international community, Japan has refused to put an end to these killings, maintaining that these marine animals are not endangered species and that no international treaty bans the culling of dolphins.
The dolphin killings started on Tuesday after fishermen pulled a tarpaulin in front of the cove where the marine animals were held captive, so as to prevent television crew and animal activists from witnessing the scene.
Melissa Sehgal, a Sea Shepherd Conservation Society activist, gave Reuters a detailed account of how these marine mammals were killed.
"A metal rod was stabbed into their spinal cord, where they were left to bleed out, suffocate and die. After a traumatic four days held captive in the killing cove, they experienced violent captive selection, being separated from their family, and then eventually were killed today," Sehgal said.