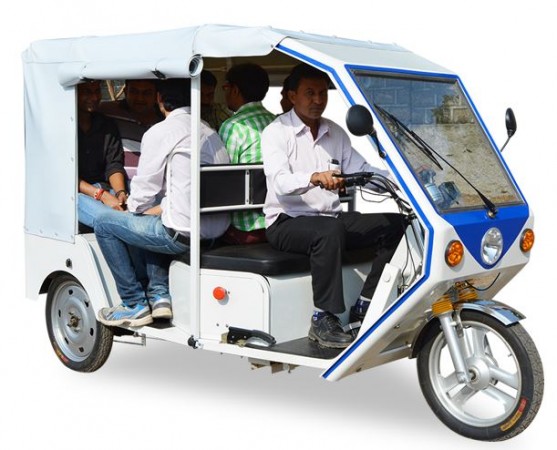 Terra Motors, a not-so-known Japanese Automobile firm has introduced a new 3-wheeler in the Indian market. Codenamed R6, the new auto-rickshaw will be available for purchase in the Indian market by early 2015.
The R6 will be a completely electrically-fuelled device, hence will create less air or noise pollution. According to Terra Motors, R6 will be able to run 100km at a stretch in a fully charged state. R6 autorickshaws will have a seating capacity of seven persons, including the driver at an average weight of 70Kg per person. Measuring 2,950x1,090x1,800mm, the R6 has a chassis weight of 278kg and a battery weight of 150kg. The autorickshaw can achieve a maximum speed of 30kmph with the incline ability of 10 degrees with 490kg of passenger load.
Terra further explains that R6 can save two-and-a-half lakh of rupees per annum in comparison to a petrol-fuelled autorickshaw if run at an average distance of 100km per day for up to 3 years. The manufacturer has also installed a quick-charging ability to the autorickshaw to charge R8 up to 80% within 2-3 hours of charging.
The company hopes to sell 10,000 R6 units in India in the coming year. Significantly the Japanese company had also launched three motorcycles in the Indian market.