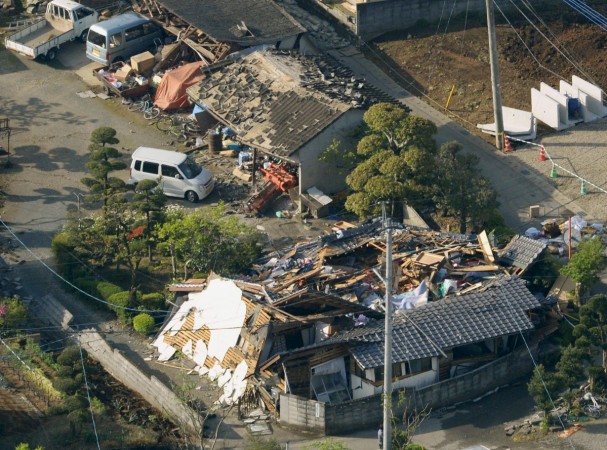 A magnitude 6.5 earthquake struck Japan's southwest region on Thursday night, killing at least nine people and leaving over 800 injured. Japanese media described the earthquake as the "strongest since 2011," and said over 40,000 people had to be evacuated from their homes in the Kumamoto Prefecture.
The strong earthquake touched the highest level on the Japanese seismic scale, according to the Japan Times. No tsunami warning was issued and the nuclear power plants in the Kyushu region were said to be safe.
Several houses collapsed due to the strong jolt, while power was cut off to thousands of homes. Four men and five women were killed in the earthquake, and nearly 860 people were injured.
Residents of the town of Mashiki, which was hit the hardest by the earthquake, spent Thursday night at gymnasiums or outside on the streets and in parks, after the quake struck at about 9:30 p.m. local time, local media reported.
"I can't sleep because of fear of aftershocks. I have never experienced something so frightening," Tomiko Takahashi, 94, was quoted as saying by Kyodo news agency.
Japanese Prime Minister Shinzo Abe said 3,000 troops, police and firemen had been dispatched to the affected areas. "We will do everything in our power to ensure the safety of local residents," he said at a parliamentary committee meeting on Friday, according to Reuters.
The agency reported that while Thursday's earthquake was much lower in magnitude than the deadly March 2011 earthquake, the intensity was similar as it had struck on land and at a shallower depth of around 11 kilometres. An article in the Japan Times was headlined — Strongest earthquake since 2011 strikes Kumamoto area.
Japan is often hit by earthquakes, which has also raised concerns over the country's nuclear programme, especially since the Fukushima nuclear disaster.
The Nuclear Regulation Authority said on Friday no irregularities were reported at the three nuclear plants on the islands of Kyushu and Shikoku.