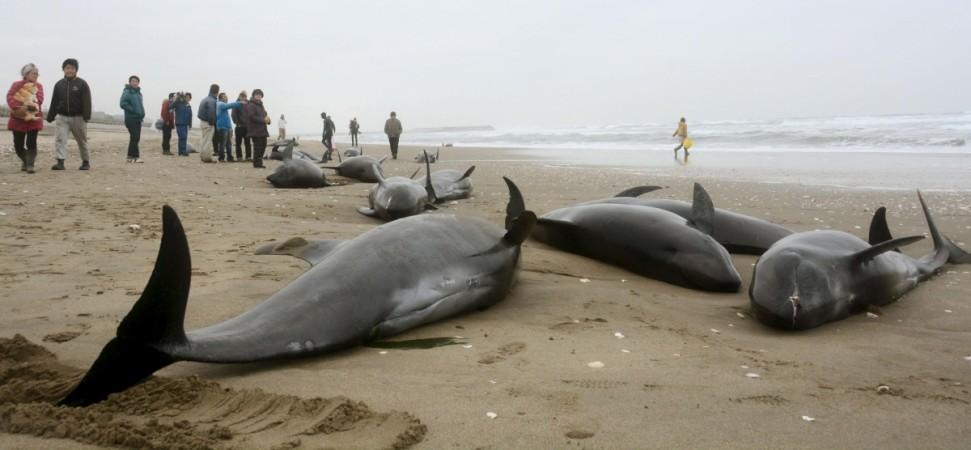 After 150 melon-headed whales, also known as electra dolphins, were beached in Japan on Friday, many netizens are seeing the incident as an ominous sign of a tsunami similar to the 2011 disaster.
Posts on Twitter suggested that a similar beaching of dolphins had preceded the deadly 9.0 magnitude earthquake in 2011 that caused a devastating tsunami, claiming more than 15,000 lives.
In March 2011, about 50 electra dolphins were reportedly beached in the Ibaraki prefecture, in a similar region as Friday's beaching, but it is unclear if the phenomemon was linked to the earthquake.
In another incident in New Zealand the same year, about 100 pilot whales were beached on 20 February, and two days later, a large earthquake hit the city of Christchurch, according to AFP.
As the reasons for the latest beaching incident are still unclear, several Twitterati are assuming the worst, without scientific claims, even predicting a tsunami on Sunday.
The Japan Meteorlogical Agency has however said that there are no tsunami warnings in effect at present.
Here are some of the tweets linking the beaching of dolphins to an earthquake, with some bordering on fear-mongering.
April 12th there may or may not be a big earthquake ... apparently there is a correlation betwen dolphins beaching and earthquakes...

— PigglesDiGaijin (@DrePigglesworth) April 10, 2015
Apparently the dolphins did the same thing days before the 9.0 earthquake in 2011. — Sarah Lilly Heidt (@sarahlillyheidt) April 10, 2015
All those people saying that the dolphins getting beached on shore in Ibaraki is a bad omen ahead of a big earthquake scare the hell outa me

— The Green Balbo (@greenbalbo) April 11, 2015
Lots of dead dolphins found washing up on the beaches near here, which can be a sign of a earthquake coming as it happened last time in JP — Lloyd Conaghan (@SinowBeats) April 11, 2015
Beached dolphins on the Ibaraki coastline adjacent to Tokyo may be pre-warning of a large earthquake. Occured in NZ (2011) and Tohohu (2011)

— Tom O'Sullivan (@MathyosEnergy) April 11, 2015
Only 3 of the 150 dolphins could be saved on Friday despite massive efforts to get the pod back into the water.