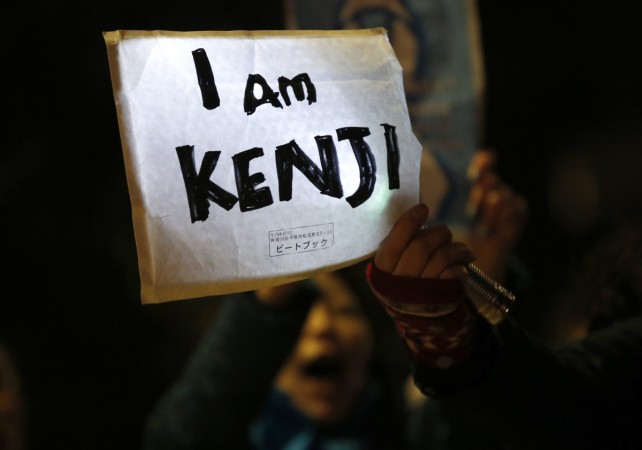 It has been confirmed that one of the two Japanese hostages held captives by the ISIS, Haruna Yukawa, has been executed. Japanese Prime Minister Shinzo Abe, while speaking to public broadcaster NHK revealed that "chances were high that a recording and an image" released by the Islamic State on Saturday were authentic.
The hostage situation is extremely testing for Abe, who came to power in 2012 by promising to ensure Japan's global security role. Over 200 people took part in the demonstrations in support of Kenji Goto, the remaining captive held by Islamic State militants. Chanting "Save Kenji", the protesters rallied outside Abe's official residence in Tokyo.
Meanwhile, Abe continues to reiterate that Japan would not give in to terrorism, reported Reuters.
"Such an act of terrorism is outrageous and impermissible, which causes me nothing but strong indignation," Abe said. "Again, I strongly demand that Mr Kenji Goto not be harmed and be immediately released."
In the video released by ISIS, the veteran war reporter had blamed Abe and his government of not doing enough to save co-prisoner Yukawa and his lives. He had also requested his family, friends and colleagues at the Free Press to save his life.
"They no longer want money. So, you don't need to worry about funding terrorists. They are just demanding the release of their imprisoned sister Sajida al-Rishawi," Goto said in the audio recording, adding that the Islamic State is being fair.
Sajida al-Rishawi, the sister of a former top commander Abu Musab Al-Zarqawi of al-Qaeda in Iraq, has been imprisoned in Jordan since her bid to blow up a hotel in Amman was foiled when her belt of explosives failed to detonate.