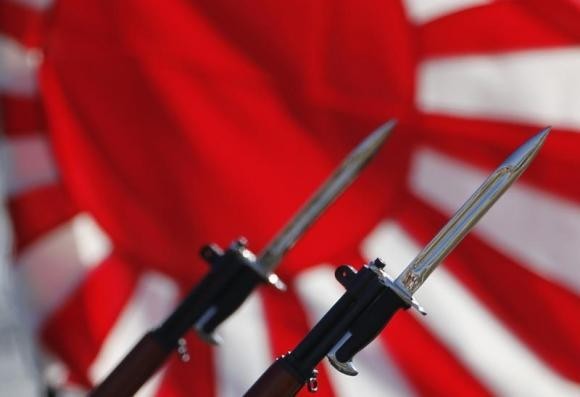 In a move that is widely seen as measure aimed to counter China, Japan's cabinet has approved a new defense strategy that will bolster its military prowess across the East China Sea.
The strategy has approved that over the next five years Japan will spend on military hardware, including drones, aircraft and amphibious vehicles and other important security checks to tackle national threats, the BBC reports.
The move comes at a time when Tokyo is embroiled in a row with Beijing over some islands in East China Sea that both claim are theirs. Japan's new strategy will include building a "new amphibious force" capable of retaking the islands.
In the coming years Japan will spend on early-warning planes, beach-assault vehicles and troop-carrying aircraft as the country seek closer ties with other Asian partners to counter the militarily assertive China.
The move seems to be a clear indicator that Japan Prime Minister Shinzo Abe is looking to build a bigger military power for the country.
"China is attempting to change the status quo by force in the skies and seas of the East China Sea and South China Sea and other areas, based on its own assertions, which are incompatible with the established international order," Japan said in its first national security strategy, which was one of the three plans approved on Tuesday.
"China's stance toward other countries and military moves, coupled with a lack of transparency regarding its military and national security policies, represent a concern to Japan and the wider international community and require close watch."
The policies calls for a five-year military building plan and a 10-year defence guideline. Stronger air and maritime surveillance capabilities and improved ability to defend islands located at a distance are among the targets of the new strategy. The government would take steps such as setting up a marine unit, buying unarmed surveillance drones and putting a unit of E-2C early-warning aircraft on Okinawa Island in the south, Reuters reported.
For the aforementioned defense building, Tokyo will set aside a budget of 23.97 trillion yet ($232.4 billion) over the coming five years. The spending on the previous five-year defence policies was 23.37 trillion.