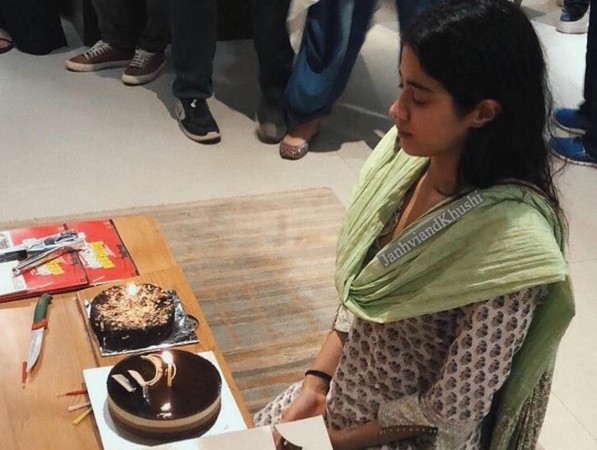 Sridevi's daughter Janhvi Kapoor turned 21 on Tuesday, March 6, and this is her first birthday after her mother's sad demise.
However, the Kapoor family and her close friends are leaving no stone unturned to keep her happy and strong as she copes with the loss. They brought cakes for her on her birthday even though the Dhadak actress looked reluctant for a celebration.
In the picture, Janhvi was seen sitting on the floor with her eyes closed probably making a wish on her birthday.
Take a look at the cake cutting photo.
Janhvi also visited an orphanage on her birthday continuing the tradition which her mom had started in the family years ago in an attempt to share love and happiness with those who don't have a family.
"Sridevi had a few plans for Janhvi and she had discussed with Boney. Nobody knew something so unfortunate will happen before that. Despite this great loss, Boney Kapoor plans to celebrate Janhvi's birthday with the entire family being by her side. It will be a tough one for the young girl," a source told Pinkvilla.
"Boney Kapoor and the family do not want anyone to give any condolences on Janhvi's birthday and they want it to be a happy day. In fact, Arjun Kapoor's sister Anshula Kapoor too will be a part of this celebration. Anshula, who is currently with Arjun in Punjab, where the actor is shooting for Namaste England, will be specially flying down to be with the family. Her tickets have been booked and all the arrangements for the dinner are being made," the source added.