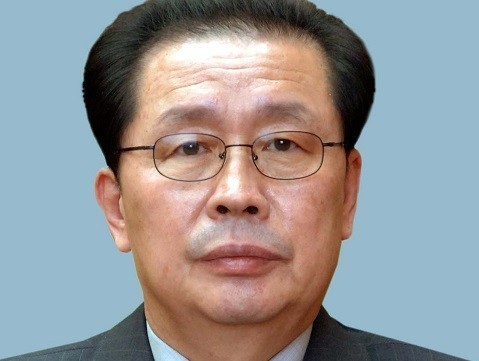 A North Korean official has finally shed some light on the mystery surrounding the execution of leader Kim Jong-un's uncle Jang Song-Thaek last month after reports surfaced that he was stripped naked and thrown into a cage to be eaten alive by 120 hungry dogs.
"No, no...he was shot to death," Hyun Hak-Bong, the reclusive nation's ambassador to Britain, told Sky News in an interview that was aired on Thursday.
In what could have been the first English language interview with a senior official from Pyongyang, Hak-Bong told the British news channel that Kim's uncle had been pardoned several times in the past for many other crimes. But his actions that prompted his Dec.13 execution were "beyond the red line," he said.
Giving further details of how exactly he was put to death, he highlighted the process of Jang's arrest and ultimate execution.
"They enlarged a meeting of the party and handed him over to the legal system. So the special Military Court of the Ministry of State Security put him on trial, he confessed to what he did wrong and according to article 60 of the Criminal Code of DPR Korea he was executed."
"According to the laws by the criminal court he was sentenced to death. Well, he was shot to death," he added.
Weeks after the 67-year-old man was executed, reports surfaced that he was thrown into a cage, along with his aides, where starving dogs tore him apart and devoured him till the sinews and bones. Jang Song-theak was till then considered the second most powerful person in North Korea.
The shocking details were first reported by a Hong Kong newspaper Wen Wei Po, and were later picked up by almost all the major mainstream news outlets.
Kim, the young dictator of the country, had accused his uncle of outrageous crimes such as womanizing, drugs, conspiring to overthrow the regime and more. Local media denounced the man with outrageous terms like "despicable human scum" and "worst than a dog".
Executions in North Korea are usually carried out by a firing squad. However, the report said that Jang was fed to the hungry hounds in a gruesome one-hour ordeal that was spearheaded and supervised by the supreme leader, along with 300 senior officials.
The Sunday Morning Herald had, however, reported hours after the rumors that the news was not likely to be true. Critics were also of the view that the Chinese government was using the media to downgrade and humiliate the actions taken by North Korea as the executed officer had travelled many times to Beijing and helped accelerate business partnerships between the two countries.