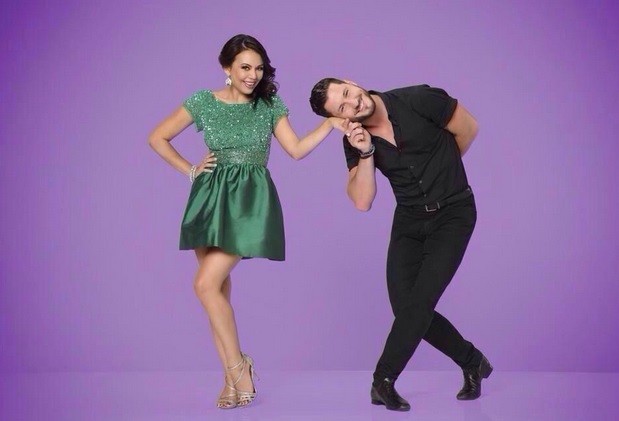 Even after claiming that there was nothing romantic about their relationship, "Pretty Little Liars" star Janel Parrish and her "Dancing With the Stars" partner Val Chmerkovskiy continue to churn rumour mills with their public display of affection.
The two were recently spotted holding hands at a Halloween party in Los Angeles and photographers even managed to get a snap of the two kissing.
The couple was reportedly joined by dancer Derek Hough and "The Vampire Diaries" actress Nina Dobrev. It is not immediately known if the two are dating, but this is the second time the two have been spotted in the last couple of months. The pair was spotted together on 17 September at the Roosevelt Hotel in Los Angeles, and an eyewitness told HollywoodLife that they were quite flirty.
"He took her and grabbed her and started dancing with her, basically throwing her around and she loved it," the source said. "They were talking close and holding each other and she was laughing at everything he said, she was enamored and definitely was equally flirting with him and he was really trying to impress her."
Meanwhile, Parrish and Chmerkovskiy sparked rumours of a romance in the beginning of the "Dancing with the Stars" season 19 when they were spotted kissing backstage. Parrish was even heard saying "I love you" to Chmerkovskiy.
Parrish and Chmerkoviskiy recently went on Access Hollywood Live where they were questioned about the kiss, to which Chmerkovskiy replied: "Her face is just so small and her lips are so big that anywhere I'm going to kiss is going to land on her lips."
Romance rumours only gained traction when Parrish's boyfriend, Payson Lewis, announced that the couple was going their separate ways. "All good things must come to an end. Thank you for the happiest year and a half of my life. I will always love you @janelparrish and I wish you nothing but the best. Forever #teamjanel," he wrote on Instagram, along with a photo of the two lounging in the sunlight.
Just a few hours after the split was announced, Parrish also took to her social networking account to post a photograph of hers hanging out with Chmerkovskiy, his brother Maksim and American ice dancer Meryl Davis.