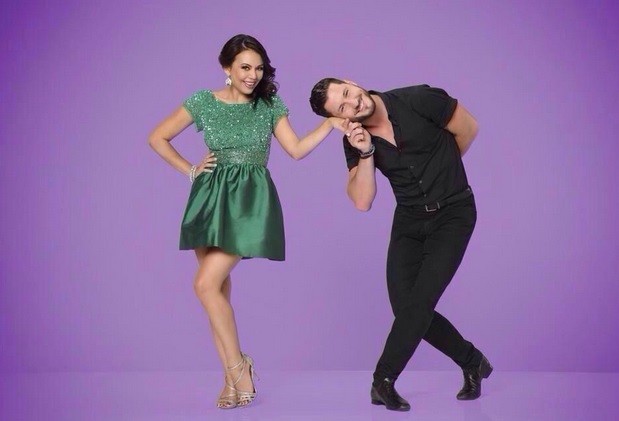 Rumours surrounding "Pretty Little Liars" actress Janel Parrish's relationship with her dancing partner Val Chmerkovskiy has once again gained momentum now that her boyfriend Payson Lewis admitted on Instagram that the couple has called it quits.
"All good things must come to an end. Thank you for the happiest year and a half of my life. I will always love you @janelparrish and I wish you nothing but the best. Forever #teamjanel," he posted, adding a photo of the two lounging in the sunlight.
Just a few hours after Lewis announced their split, Parrish posted online a photo of hers hanging out with Chmerkovskiy, his brother Maksim and American ice dancer Meryl Davis.
In the photo, Parrish sits next to Val and she looks nothing like someone who just broke up with her boyfriend, as she is seen grinning ear to ear. "So much happy @iamvalc @meryledavis @maksimc@sergeonik @hollywoodmerv," she captioned the picture.
The breakup announcement comes at a time when the rumour mill has been in overdrive ever since Parrish was seen kissing her dancing partner in the premiere of "Dancing with the Stars" season 19.
The couple recently went on Access Hollywood Live where they were questioned about the kiss, to which Chmerkovskiy replied: "Her face is just so small and her lips are so big that anywhere I'm going to kiss is going to land on her lips."
The couple also took a lie detector test, where they were asked about harbouring romantic feelings for one another. Parrish quickly dismissed the question but Chmerkovskiy answered in an affirmative besides teasing fans by hinting that he wasn't too comfortable with Parrish's paring with Artem Chigvinstev in Week five's switch-up.
"Right now Ukrainians and Russians are not really getting along anyway. So adding the mixup into the mix and adding Janel into this burlesque number, yeah, I had some sort of emotions about that," Chmerkovskiy said.
Interestingly, both of them claimed that they were not dating but it is obvious that they enjoy each other's company. No one knows what the future holds!