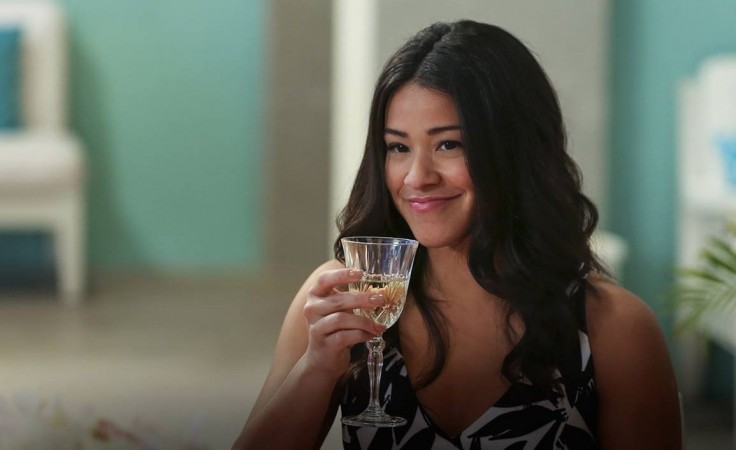 "Jane The Virgin" Season 2 has been quite a roller-coaster ride for Jane. And now, the drama and catastrophe continue to haunt her wedding to Michael as well. After a flood at home in episode 16, watch how her bachelorette party goes askew in episode 17.
CLICK HERE to watch "Jane the Virgin" Season 2 episode 17, titled "Chapter Thirty-Nine," live.
In episode 16, we saw how Jane and Michael's wedding plan went down the drain literally when a flood hit Jane's home. The couple's wedding plans were completely disrupted and they were seen working their way out for newer options. In "Chapter Thirty-Eight," we also saw Jane had a huge clash with her father Rogelio over how big the wedding ceremony should be. Jane argued that she wanted a simple one, but her dad wanted to make it a celebrity affair by inviting his huge circle of friends.
Meanwhile, Jane and Michael also started hunting for a new house to start a family, but their hunt didn't go quite smoothly. At the end of the episode, we saw that Rafael was upset with Jane's decision of moving away with Mateo into a new home, which is 45 minutes away, and he convinced her to look for something closer, much to Michael's annoyance. The episode also focused on Petra's issues of dealing with postpartum depression.
After the whole flood in the house issue, in episode 17 we will see how Jane and Michael's bachelorette and bachelor parties go awry. It looks like her folks turn to become her worst foes in the next episode. According to the synopsis, Jane's party will be ruined when her mother Xo and Lina get involved, and Michael's will be disrupted by Jane's dad. The promo of "Chapter Thirty-Nine" shows that Jane will have certain plans as to how she wants to ring in the last night of her single life, but Xo and Lina ruin it all by planning something stupid. And Rog, on the other hand, will disrupt Michael's party with his friends.
Meanwhile, Rafael is shown busy trying to unravel and figure out the true intentions of his half-brother Derek.
Plot synopsis for "Chapter Thirty-Nine" (via TV Guide) reads: "Jane's bachelorette party doesn't go as she envisioned thanks to input from Xo and Lina. Meanwhile, Rogelio's plans for Michael's bachelor party disrupt Michael's evening with his friends; and Rafael attempts to unearth Derek's true motives."
"Jane The Virgin" Season 2 episode 17, titled "Chapter Thirty-Nine," will be aired 9 p.m. Monday, April 11, on The CW.