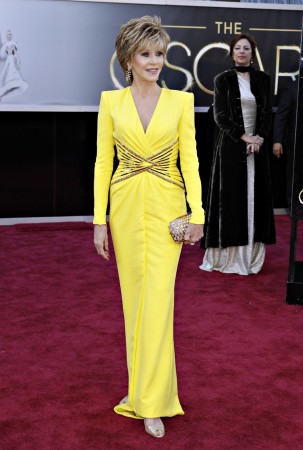 Jane Fonda became the eighth woman to receive the prestigious Life Achievement Award presented by the American Film Institute, following the likes of Bette Davis, Lillian Gish, Elizabeth Taylor, Barbra Streisand, Meryl Streep, Barbara Stanwyck and Shirley MacLaine.
The 75-year-old actress will be presented the award in a gala tribute to be held on 5 June 2014.
"Jane Fonda is American film royalty," said Howard Stringer, chairman of the AFI's board of trustees. "A bright light first introduced to the world as the daughter of Henry Fonda, the world watched as she found her own voice and forged her own path as an actor and a cultural icon. Today she stands tall among the giants of American film."
Fonda made her Hollywood debut in 1960 with the comedy "Tall Story". Since then, there's been no turning back for the talented actress. She has starred in many hits including 1967's "Barefoot in the Park" and 1968's sexy sci-fi comedy "Barbarella".
Fonda hit a speed bump in her career after her visit to the Vietnam capital in 1972, when she became involved in anti-Vietnam War activities. However, she was back in business in 1977 with her role in Fred Zinnemann's 1977 drama "Julia" for which she also earned an Oscar nomination.