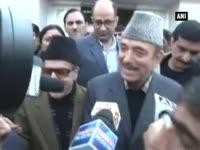 Polling for the four Rajya Sabha seats in Jammu & Kashmir ended on Saturday.
Seven candidates are fighting for the seats in the Upper House, including Congress party's Ghulam Nabi Azad who is presently the leader of the opposition in Rajya Sabha.
The other six candidates include two members each from the Peoples Democratic Party (PDP), Bharatiya Janata Party (BJP ) and National Conference (NC).
As per the notification given by the returning officer M Ramzan, the casting of votes which took place at the state assembly began at 9am and continued till 4pm. The election results will be announced by late evening.
According to The Times of India reports, for the four seats in the Upper House, the PDP and the BJP are contesting the elections with a combined effort and are likely to win three seats out of four.
Azad, who is contesting from the Congress party, has the support many members from different parties and as per sources, he is likely to win the fourth seat.
One of the first individuals to cast his vote was former chief minister of Jammu and Kashmir Omar Abdullah. Abdullah, the president of the National Conference, told the media that he was confident about Azad's victory as Abdullah's party was backing him to a great extent.
On the confidentiality being maintained by PDP and BJP over their alliance to form the government in the state, Abdullah said: "What are they shying away from now when their alliance is already known to everybody?"
The National Conference president also added that his party would occupy the opposition seat in the Assembly.