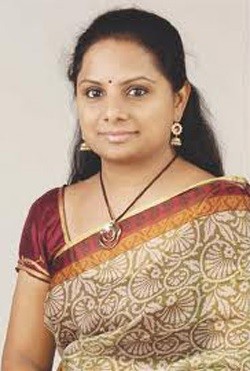 Despite facing sedition charges for saying that Jammu & Kashmir and Telangana are not parts of India, Telangana Rashtra Samithi (TRS) MP K Kavitha stood firm on her controversial remark.
Responding to the reports of FIR filed against her for making "anti-nationalist" remarks, she said that what she stated earlier was a fact.
"Before 1947, Jammu and Kashmir and Hyderabad were not a part of India. I have said this and this is a fact I have given an explanation about my statements to the court and if they still feel I am guilty, I will let the law take its own course," Daily News & Analysis quoted Kavitha.
The Madannapet police filed an FIR against Kavitha, daughter of Telangana Chief Minister K Chandrasekhar Rao, following a magistrate court's order issued on 5 August.
She has been booked for sedition under 124-A and also under 505 (statements leading to public mischief) of Indian Penal Code (IPC) following a complaint filed by an advocate and BJP activist K Karunasagar.
In his complaint, Karunasagar alleged that Kavitha told Indian Express (IE) in an interview that J&K and Telangana were not parts of India before independence.
"Offended by the anti-nationalist remarks by Nizamabad MP K Kavitha, I filed a petition against her on at the Seventh Additional Chief Metropolitan Magistrate Court, Nampally on July 30, requesting the court to take cognizance of Kavitha for her anti-national remarks. The honourable court has directed PS Madannapet to file an FIR under IPC sections 124A, 153B and 505," Karunasagar said.
Earlier, Kavitha had reportedly told IE that "few parts were not ours, we should agree, we should redraw the international lines and move on," according to Economic Times.