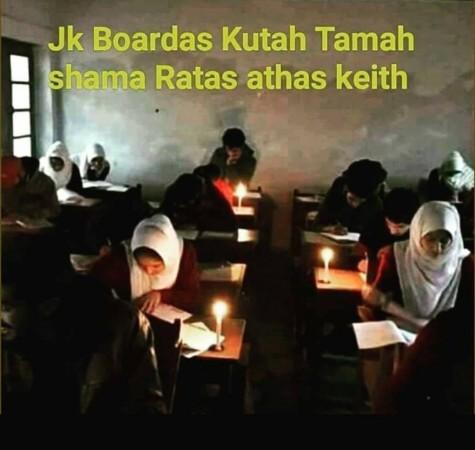 The lack of infrastructure in the education sector in Kashmir became apparent when pictures of students taking their examinations under candlelight in classrooms went viral.
As the weather conditions worsened across the Valley with early rainfall and snowfall, the sun hid behind the clouds even during the day. However, the J&K Board of School Examinations went ahead to conduct the ongoing 10th, 11th and 12th exams even under the inclement weather conditions.
On Friday, as pictures of various examination halls where students were seen writing their exams with the help of candlelight and lanterns emerged on social media, netizens reacted strongly and urged the state board to either cancel or reschedule these examinations.
A popular RJ of a local FM radio station, while posting the student's pictures on Facebook, took a dig at the authorities for failing to make proper arrangements for students writing their examinations.
A journalist, Mufti Islah based in Srinagar reacted on Twitter, "If this picture is genuine then it is a big slap to BOSE. Shameful. That said Valley kids will still do well. They write exams even in more dreadful conditions and succeed."
As the temperature plummeted to sub-zero degrees in the higher reaches and almost touched zero degrees in Srinagar and adjoining areas, parents were quite concerned.
"The authorities should make it a priority to put in place adequate heating and lighting arrangements across examination halls. Under freezing cold and no proper lights, how would children write? The Board is acting selfish by quickly conducting exams and not caring enough for the students," Tanveer Beigh, a concerned parent said.
Meanwhile, the J&K Board after being criticized, rescheduled the exams and ordered the exams to begin half an hour early at 1.30 in the afternoon than the scheduled time.