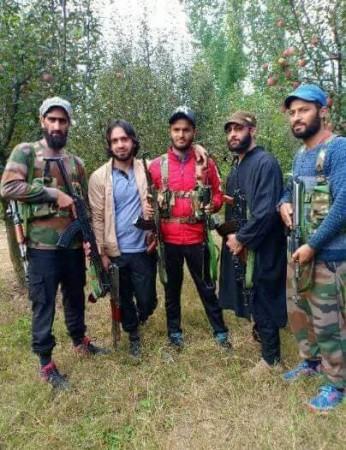 The Special Police Officer who decamped with nine weapons, including a personal pistol of PDP MLA Aijaz Ahmad Mir, has joined Hizbul Mujahideen.
Adil was seen posing with top Hizbul commander Zeenat-ul-Islam and several other militants in a picture that has gone viral on social media. The pictures also show the weapons which Adil ran away with from the guard room of the PDP MLA in Srinagar.
On Sunday, the J&K Police had claimed that the incident of weapons snatching was a well-hatched plan executed by Adil along with a civilian from Shopian district. Both were in touch with Hizbul Mujahideen militants, the police said.
Adil had planned to flee with the weapons when the MLA was in Jammu and his security guards were on leave. They left their AK 47s in the guard room along with a licensed pistol of the MLA.
The seven PSOs who had gone on leave have been suspended for negligence in carrying out their duties.
Even as the incidents of weapons snatching by the militants and security personnel of politicians and police officials are on a rise in the valley, this is the first incident when a security official decamped with large number of weapons and that too from a tightly guarded area of Srinagar.