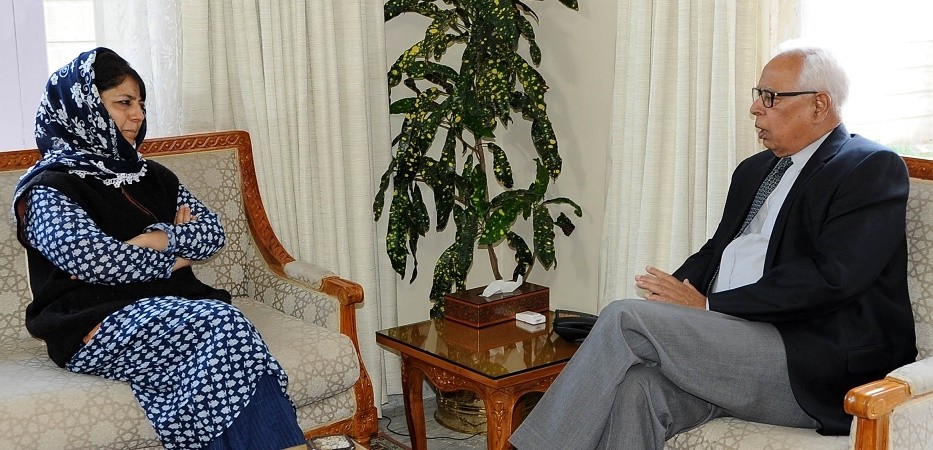 The Bharatiya Janata Party (BJP) cannot form government in Jammu & Kashmir as it cannot accept any new demands of the Peoples Democratic Party (PDP), party general secretary Ram Madhav reportedly said Friday.
Madhav put the blame on the PDP for the delay in government formation in the state, which is under Governor's rule after the death of former Chief Minister Mufti Muhammad Sayeed Jan. 7. His daughter Mehbooba Mufti had refused to form the government then. His statement came a day after Mehbooba Mufti met BJP national president Amit Shah in Delhi.
"We are not ready to accept any new demand. Whatever expectations are there, would be possibly fulfilled only after formation of a government. It's not possible to form the government on conditions," Indo-Asian News Service quoted Madhav as saying.
"The prevailing situation in Jammu and Kashmir is not because of us. After Mufti Saheb's death, PDP had to choose a leader for the chief minister's post," he said.
The PDP and the BJP became allies to form a government in the state in March 2015 when no party won majority in the assembly elections.
Former chief minister and National Conference leader Omar Abdullah also questioned the delay in government formation.
"If all she wanted was the Agenda of Alliance, that was a roadmap with a SIX yr implementation period so what was the problem with timeframe? It seems she didn't know what she wanted from the centre & got tripped up because her demands were too vague & her response too erratic," he said in a series of tweets.
"Mehbooba's father negotiated the Agenda of Alliance so she must tell us what was wrong with it. Her father was CM 10 months with this agenda," he said in another tweet.
Mehbooba's father negotiated the Agenda of Alliance so she must tell us what was wrong with it. Her father was CM 10 months with this agenda

— Omar Abdullah (@abdullah_omar) March 18, 2016
It seems she didn't know what she wanted from the centre & got tripped up because her demands were too vague & her response too erratic. — Omar Abdullah (@abdullah_omar) March 18, 2016