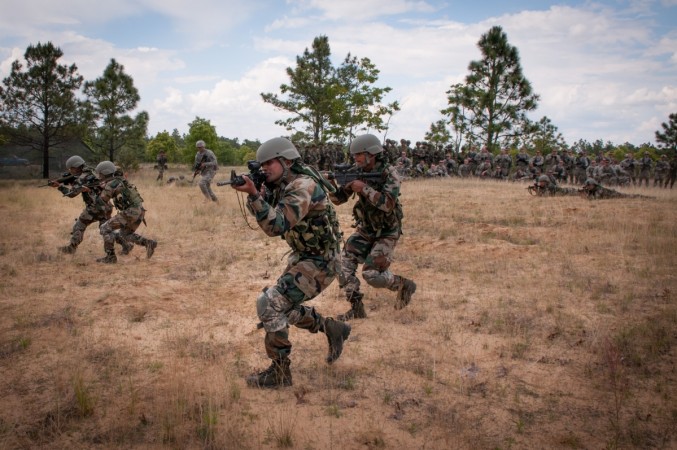 Indian Army launched a massive retaliatory fire assault at Pakistan Army positions on Saturday, inflicting heavy causalities, a day after the body of an Indian soldier was mutilated and beheaded from terrorists across the border.
At least four Pakistani posts were destroyed in "a massive fire assault" in the Keran Sector of Jammu and Kashmir on Saturday, the Army said. "Heavy casualties (among Pakistani soldiers) were inflicted in this assault," the Northern Command based in Udhampur said in a statement.
"Sustained fire assaults" were conducted by the Indian Army with light and heavy machine guns and rockets at several posts in Pakistan throughout Saturday. The battalion commanders of the Army along the Line of Control (LoC) have been directed to "effectively retaliate with full force" to any ceasefire violating from across the border, TOI reported.
"The firing was carried out with the aim to destroy targets like Pakistani posts and bunkers with pinpoint accuracy. But no estimates of casualties on the side can be given," a senior officer said.
The Army on Friday had promised that the mutilation of the Indian soldier by Pakistani terrorists would have serious consequences for the other side.
An Indian Army jawan was killed in an encounter with terrorists on Friday evening in Macchil sector of Kupwara district near the Line of Control. The terrorists mutilated his body and reportedly beheaded him before fleeing back to Pakistan-occupied-Kashmir.
Reports state that the incident occurred under the cover of cross-border firing initiated by the Pakistan Army. One terrorist was also killed in the firing. The slain soldier was identified as Manjeet Singh of 17 Sikh Light Infantry.
"The despicable act of mutilating the jawan's body reflects the barbarism pervading in official and unofficial organisations in Pakistan. The terrorists managed to escape due to the covering fire provided to them from the Pakistan Army posts. The incident will be responded to appropriately," an army spokesperson in Srinagar said.