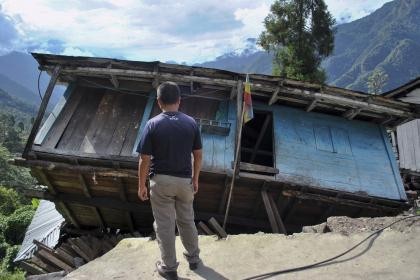 Tremors were felt in national capital Delhi, as an earthquake of 3.8-magnitude hit northern state of Jammu and Kashmir early on Saturday.
The temblor had its epicentre 43 km north of the summer capital of Ladakh - Leh, according to the US Geological Survey (USGS).
The earthquake struck the state at 3.51 am (local timing), reported All India Radio News. There have been no reports of casualties or property damage in the region.
Saturday's earthquake struck days after a series of four temblors jolted the national capital region. On Twitter, Shivam Vij, a localite, posted, "Another earthquake in Delhi. Heard but not felt. Scarier this way. Not a good feeling."
Residents of South Delhi rushed out of their home in the dead of the night, when the four earthquakes struck between 12:41 am and 03:41 am on Tuesday.
The first quake struck at 12:41 am with Sainik Farms as its epicenter and happened at a depth of 10 km. The second quake at 1:41 am measured the strongest on the Richter scale with 3.3 magnitude that shook Delhi and surrounding towns of Noida and Gurgaon.
The epicentre of the second and third quake, at 1:55 am with an intensity of 2.5 on the Richter scale, lay south-east of Manesar beyond Gurgaon in Haryana. The next and last temblor hit at 3:40 am and was of 2.8 magnitude.
Experts told NDTV that such quakes with mild tremors were caused due to a re-alignment in fault zones.