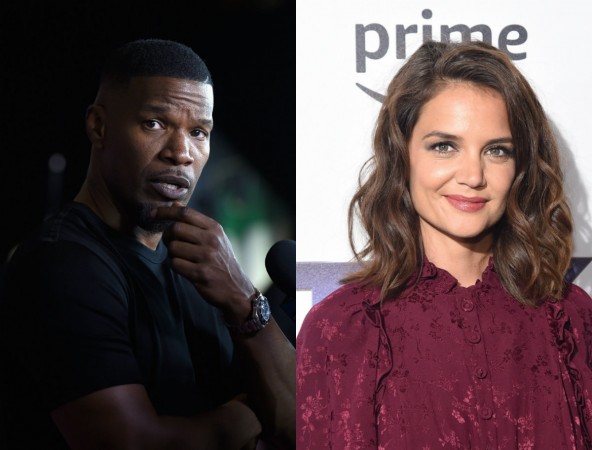 Katie Holmes and Jamie Foxx were recently spotted sharing a perfect smooch on a luxury yacht. There are now alleged reports that the couple is now going to announce their official engagement and at the same time, Jamie reportedly wishes to sit down with Tom Cruise before revealing the marriage details.
After ending her high profile marriage with the Vanilla Sky movie star Tom Cruise, the Batman Begins movie actress dedicated her time to her daughter Suri Cruise, her teenage daughter with Tom. There were several speculations about her dating life and Jamie Foxx's name was frequently linked with her. Both Jamie and Katie denied the news of their romantic endeavor, but the recently released pictures show that the alleged couple is reportedly getting serious for each other.
Back in December 2018, Katie Holmes and Jamie Foxx were photographed sharing a sweet kiss while on a luxury yacht in Florida. In the leaked pictures, Katie is seen wearing a pink-white crop top and matching shorts, then leaned in towards the acclaimed rapper for a passionate kiss. After their pictures surfaced online, many simply assumed that this Katie Holmes and Jamie Foxx are soon going to get married. A report by RadarOnline even claimed that the Django Unchained movie star wishes to sit down with Katie's former husband so that there won't be any kind of bad blood between the two.
Tom Cruise and Jamie Foxx were once good friends. The celebrated Hollywood artists won the heart of their fans by featuring in 2004 neo-noir action thriller film Collateral. But as Jamie is romantically involved with Tom's ex-wife, there are speculations that Jamie wishes to clear the air with the Top Gun movie star before announcing his engagement with Katie.
"This has been the elephant in the room for so long, and they figure it's time to finally address it head-on," an alleged insider told the outlet. "That means sitting down with Tom face to face, explaining how they fell in love and assuring him there was never any crossover when he and Katie were married."
However, Gossip Cop debunked these claims.
Apparently, this is not the first time when absurd rumors about Katie Holmes' supposed marriage has surfaced online. It was earlier wrongfully speculated that Katie is all set to walk down the aisle for the second time. It was stated during that time that Holmes is reportedly planning a small wedding with her beau Jamie Foxx, and is not at all worried when it comes to her ex-husband Tom Cruise. As per an alleged insider, the couple wanted to have "under-the-radar ceremony" somewhere on the coast of France.
When it comes to the wedding guest lists, the alleged insider further claimed that Katie Holmes is not going to invite Tom Cruise to her wedding. The bogus claims were also debunked by a fact-checking website.
It should be noted that Katie Holmes and Jamie Foxx are not engaged, despite absurd claims. As of now, they are not rushing into anything and are enjoying their time together.