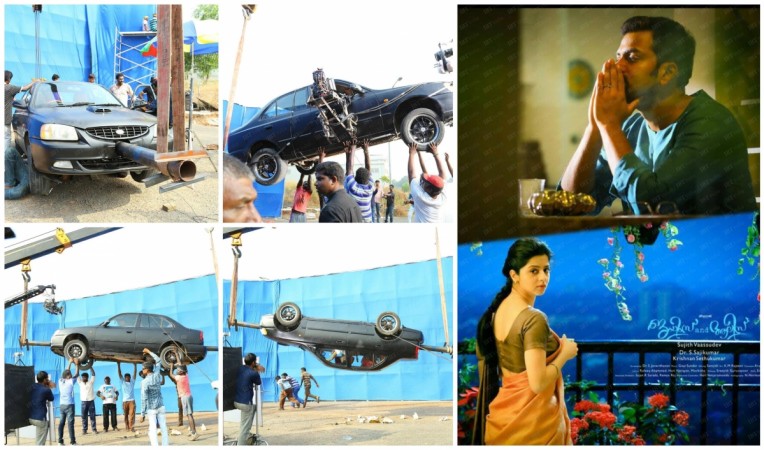 Prithviraj Sukumaran's latest Malayalam movie "James and Alice," released on May 5, has been garnering positive response from movie-goers. The film, which digs deep into the life before and after marriage of the couple James and Alice, features the notable performance of Vedhika opposite the young star.
For those who have watched the Sujith Vaassudev-directed movie, the car stunt scene, in which Prithviraj's character meets with a major accident, is sure to leave a mark on their minds as the slow motion visual was repeated quite a few times in the film.
Sree Saravanan, who cranked the camera for the family entertainer, has now shared the behind-the-scene video of the stunt sequence on his Facebook page. He has revealed to International Business Times, India, that the stunt was shot at InfoPark road in Kochi. The sequence was choreographed by Raja Shekar master and was performed by Approse Bhai. The video, uploaded on the social media page of the cinematographer on June 4, had been viewed more than 15,000 times, at the time of reporting.
Watch the car stunt video here:
In "James and Alice," Prithviraj plays the role of an artist James who falls in love with Alice (Vedhika), a banker. The couple gets married without the permission of Alice's father (Sai Kumar), a rich businessman who is very concerned about his daughter's future.
Later, they are blessed with a daughter who they name Pinky (Emine Salman). After realising that taking care of family is a huge responsibility, James becomes an ad film maker. The indifference that creep in between the couple in the following years form the rest of the family entertainer. Although the audience appreciated the movie for having a good theme that is relevant in today's time, the nearly 3-hour duration was said to be the negative point about "James and Alice."