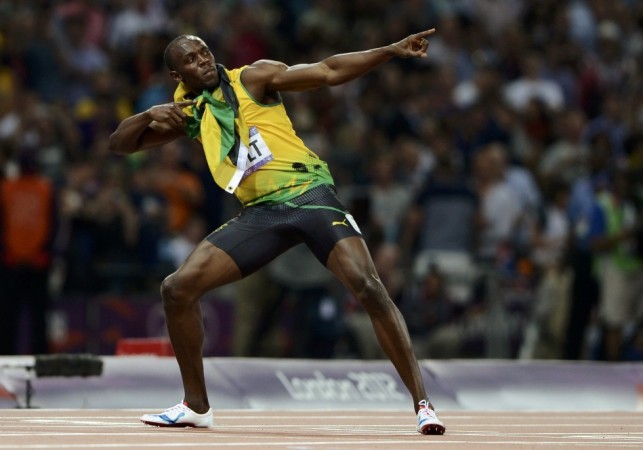 Jamaicans exhibited a superb show on Thursday night, proving their dominance in the sprint events by sweeping the men's 200 meter race, bagging gold, silver and bronze, and the fastest man on the planet Usain Bolt making history by defending his Olympic title.
Winning the men's 200 meter in 19.32 seconds, Bolt became the only man in the Olympic history to win both the 100 meter and 200 meter at two successive Olympics. He defended his 100m title on Sunday with a time of 9.63 seconds.
The 25-year-old Jamaican won his favourite event in style, placing his finger on his lips before crossing the finishing line as if to tell the world "see I told you -- no one can beat me."
Going ahead of his opponents in the first 100 meters, he was unstoppable.
He celebrated his win by doing push-ups on the track before embracing his teammates Yohan Blake and Warren Weir.
[PHOTOS OF USAIN BOLT ON THE TRACK AND WINNING MOMENT]
Blake won silver with a time of 19.44 seconds, and Weir bagged bronze with a time 19.84 seconds. It was Jamaicans' race.
Bolt set a world record time of 9.69 seconds in the 100 meters and 19.30 seconds in the 200 meters at the 2008 Beijing Olympics. He then broke his own record the following year by lowering the time to 9.58 seconds and 19.19 seconds in the two sprint events.
"I'm ready. This is my favorite event, so I'm looking forward to it," Bolt had earlier told reporters after qualifying for the final. And he didn't say the 200 meter race is his favorite for no reason.
It may be recalled that Shelly-Ann Fraser-Pryce of Jamaica defended the title of fastest woman on the planet on Saturday night by winning the 100 meter race with a time of 10.75 seconds, besting her gold medal performance of 10.78 seconds at the Beijing Olympics four years ago.
However, Jamaica failed to defend the women's 200 meter title with Allyson Felix of the United States clinching gold with a time of 21.88 seconds. Fraser-Pryce bagged silver with a time of 22.09.