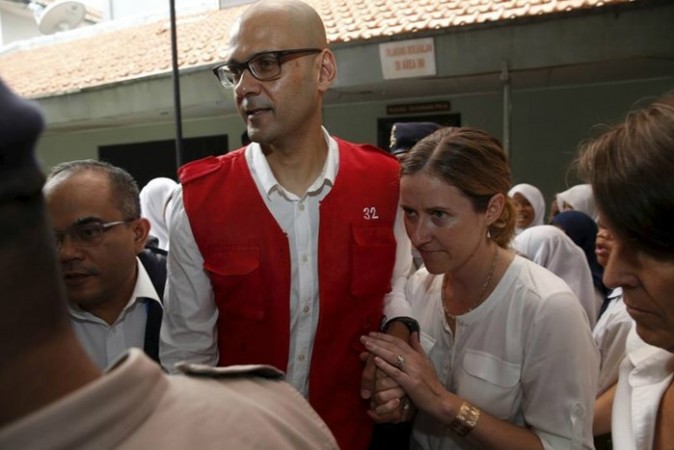 The United States has expressed its disappointment over an Indonesian court's verdict sentencing a Canadian teacher and a local teaching assistant to 10 years in jail each for sexually abusing three school children.
On Thursday, the South Jakarta District Court convicted Neil Bantleman and Ferdinant Tjiong of violating Indonesia's Child Protection Law and Criminal Code.
Bantleman, who was arrested last July, had pleaded innocent to the charges that he sexually abused three kindergartners at the Jakarta Intercultural School. The 45-year-old Canadian school teacher maintained that he was innocent and told The Associated Press that he would challenge the verdict.
"Today is completely a miscarriage of justice," Bantleman said. "I'll keep fighting."
US Ambassador to Indonesia Robert Blake, in an official statement, raised doubts on the credibility of the "evidence against the teachers".
"We have been closely following the case of the JIS teachers. Any case involving allegations of child abuse is sensitive. Serious questions have arisen in this case regarding the investigative process and lack of credible evidence against the teachers. In light of this, we are deeply disappointed with this outcome," Blake said.
He also noted that a "broad international community is following [the] case closely" and the outcome of the legal process will have a significant impact on Indonesia's reputation abroad.
The three-member judge panel also ordered Bantleman to pay a fine of approximately $7,700 or serve six more months in jail.
"The defendant has deliberately committed violence and obscene acts," the judges said in their verdict.
Meanwhile, a parent of one of the children has sued the school for the "alleged negligence" and has sought a compensation of $125 million.
The principal and a number of other teachers have said they believe Bantleman is innocent.
The Indonesian teacher Tjiong, who was tried separately, was also given the same prison term and fine.
The Jakarta Intercultural School is attended by children of foreign diplomats, expatriates and Indonesia's elite. It has 2,400 students, aged between 3 and 18, from about 60 countries.
In December 2014, the Indonesian investigators looking into the child sex abuse case had sentenced four male janitors of the school to eight-year prison term. A female janitor was given five years for acting as an accomplice and a sixth suspect in the case had committed suicide.