The next two-and-a-half months would see the Narendra Modi government go in for major disinvestments in its bid to contain the fiscal deficit target at 4.1%, said finance minister Arun Jaitley on Friday.
Refraining from making a specific statement in this regard, Jaitley said that the disinvestment climate will see significant activity before 31 March 2015.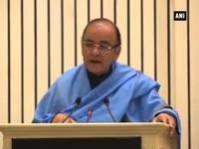 In December 2014, the government sold a 5% stake in steelmaker SAIL for ₹1,700 crore. It needs to raise its disinvestment pace, if it wants to keep up with the disinvestment target of ₹43,425 crore for the current fiscal 2014/15.
Blue-chip companies, including many 'Navrathna' enterprises are expected to see the government's stake go down. Plans are afoot to discharge residual stake held in private companies, helping raise about ₹15,000 crore in the current fiscal.
All efforts will be made to stick to the 4.1% fiscal deficit target, in view of the credibility of India's financial accounting system.
Addressing question on economic growth, the finance minister said 2015 would be a much better year than in the past; however, remaining 'not fully satisfactory,' as the government deals with much 'legacy of the past.'
Jaitley regretted that 'reforms in 2015 meant clearing up the mess left behind in the last few years'. He expressed hope that 2016 would certainly be better, with the inflation remaining substantially under control, and banking rates coming down.
Speaking of the recent spurt in ordinances, Jaitley said that the government would introduce the necessary bills in the Lok Sabha, hoping they would be cleared by the Parliament, read FirstPost.
However, the government will adopt the constitutional process of a joint session to get the necessary approvals, if the Rajya Sabha again stalls moves, said Jaitley.
The ruling NDA government has a full majority in Lok Sabha, but falls short in the Rajya Sabha. Both Houses of the Parliament need to ratify Bills and Acts before it gets the Presidential approval.