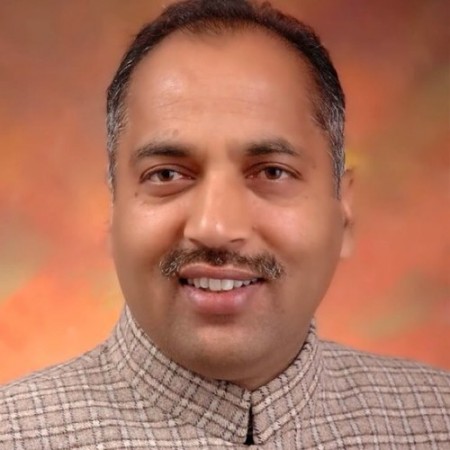 Bharatiya Janata Party leader and five-time MLA Jairam Thakur emerged as the front-runner for the Himachal Pradesh's Chief Minister's post.
The BJP is likely to announce Thakur's name after elected party members hold a formal meeting on Friday.
A meeting presided by Union Defence Minister Nirmala Sitharaman, Urban Development Minister Narinder Singh Tomar, senior leader Shanta Kumar and state BJP chief Satpal Satti and others was held on Thursday.
The saffron party which ousted Congress in the hill state on Monday zeroed in on Thakur after its initial choice for CM Prem Kumar Dhumal lost to Congress' Rajinder Rana by 2,000 votes in Sujanpur constituency.
Who is Jairam Thakur?
The 52-year-old Thakur, who is a low profile leader in Himachal, was first elected to the HP Assembly from Mandi in 1998.
He has also been the minister of Rural Development and Panchayati Raj.
He had also contested a Lok Sabha by-election from Mandi against former CM Virbhadra Singh's wife Pratibha Singh but lost. He was the BJP chief for Himachal Pradesh from 2007 to 2009.
Thakur is also being favoured for his non-controversial and untarnished service as state party president.
Here's what Thakur said
When news agency ANI approached Thakur on Tuesday, a day after BJP won the HP Assembly election, he said that he and his party would work for the progress of his state.
"Whatever the party will decide I will do. I am very happy that there is going to be BJP government in Himachal Pradesh. I thank all the people of the state for voting for us. We will work for the development of the state. The party will also improve the law and order situation in Himachal Pradesh," Thakur said.