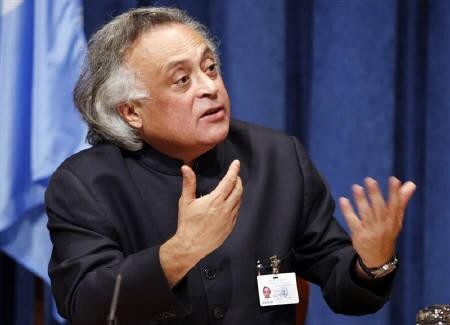 Union Minister Jairam Ramesh on Sunday drew another controversy after he urged women not to get married to families that do not have toilets at homes.
The bizarre statement came just a few days after he kicked up controversy by saying that Indian has more temples than toilets.
Speaking at the launch of Nirmal Bharat Yatra at Khajuri village near Kota in Rajasthan, the Union Minister for Rural Development and Water and Sanitation said, "Don't get married in a house where there is no toilet," Press Trust of India quoted the minister as saying.
Citing the slogan of Haryana government, "No toilet, no bride" the minister added, "You consult astrologers about rahu-ketu or planetary positions before getting married. You should also look whether there is a toilet at your groom's home before you decide to get married."
He criticized the rajasthan government for not doing enough to improve sanitation in the state and urged it to do away with open defecation.
He continued his tirade against people without good sanitation on Monday by stating that the government would come up with a bill to allow the arrest of people who don't destroy unsanitary toilets.
The minister had earlier earned the wrath of the Hindu outfits last week by his statement suggesting that "toilets were more important than temples". He also said that defecating in open spaces is the main cause of India's malnutrition problem.
The Bharatiya Janata Party (BJP) had condemned the statement of Ramesh saying that one should not get into a debate of whether the temple or toilet is more important.
"Making of toilets and having faith in a religious place of worship are two different things. India is a multicultural country where we should have unblemished faith in a temple, a mosque, a gurudwara or a church. You cannot juxtapose the two," NDTV quoted Rajiv Pratap Rudy, BJP spokesperson as saying.