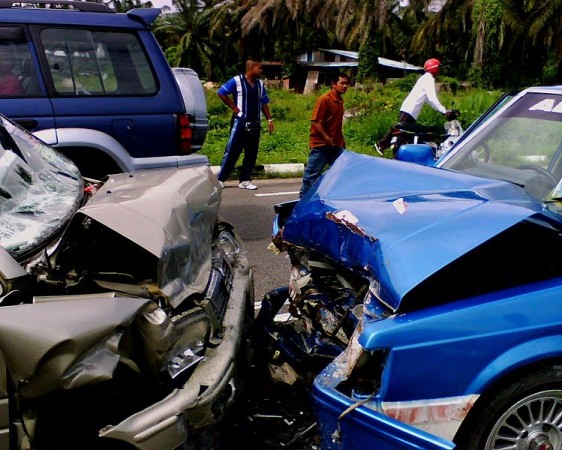 A BMW car driven by a Rajasthan MLA's son, suspected to be in an inebriated state, allegedly rammed into an autorickshaw, claiming the lives of at least three people and injuring five others, including four policemen, in Jaipur on Saturday.
According to the Press Trust of India (PTI), the police said that independent MLA Nandkishore Maharia's son, Siddharth Maharia, was allegedly driving the BMW at high speed around 1.30 a.m. in the C-scheme area of Jaipur when he collided with an autorickshaw and then a police van.
The police added that the auto fell around 200 feet away from the site due to the impact of the collision.
According to Hindustan Times, the incident took place near St. Xavier's School when Siddharth and his cousin Jayant were on their way to their house in Jalasura. Both of them have been detained.
"Two of the passengers of the autorickshaw died on the spot and as many were injured. One Assistant Sub Inspector (ASI) and three other policemen on duty were also injured," PTI quoted Deputy Commissioner of Police (DCP) South Manish Agarwal as saying. "The five injured were rushed to SMS hospital where another passenger of the auto rickshaw succumbed to injuries," he added. The ASI was injured in the head while the other policemen were given primary treatment.
"There were four persons in the car. Two managed to escape and two — Siddharth and his relative Jayant — were caught. They are at a police station and action against the driver will be taken after the registration of an FIR," Additional DCP Yogesh Goyal said, adding that Siddharth was in an inebriated state "as per the initial assessment". A medical test was conducted to confirm it.
Siddharth has denied the fact that he was driving the car and that he had consumed alcohol. "Wherever a big car and youngsters are involved, there is doubt of alcohol consumption. Nothing like that (happened). Doctor gave me clean chit in the hospital. Driver was driving the car. Will get in touch with the families of the deceased, ready to help them," ANI quoted him as saying in a series of tweets.
"An FIR has been lodged in this regard and after we receive the medical reports, relevant sections of the IPC will be decided. Chances are that the case will be registered under section 304 (culpable homicide not amounting to murder)," DCP Agarwal was quoted by HT as saying.
The deceased were identified as Vishnu Das (45), Jaithanand (31) and Kailash, the driver of the autorickshaw, the Indian Express reported. Thirty one-year-old Anil Soni, who was travelling in the auto with Das and Jaithanand, survived the accident and was taken to a nearby hospital. He was, later, discharged. Efforts are on to trace the relatives of the auto rickshaw driver.