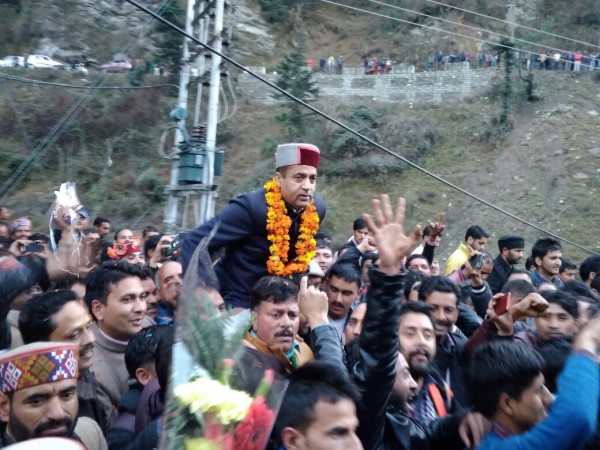 BJP leader Jairam Thakur took oath as the new Himachal Pradesh Chief Minister on Wednesday in Shimla's historic ridge ground.
Mahendra Singh, Kishan Kapoor and Suresh Bhardwaj have also taken oath as cabinet ministers of Himachal Pradesh government.
Other BJP leaders have also taken oath as cabinet ministers.
The saffron party, which ousted Congress in the hill state on December 18 by winning 44 of the 68 seats, had zeroed in on Thakur after its initial choice for CM Prem Kumar Dhumal lost to Congress' Rajinder Rana by 2,000 votes in Sujanpur constituency.
Prime Minister Narendra Modi, Union Home Minister Rajnath Singh, BJP president Amit Shah, former Deputy Prime Minister LK Advani and several Union ministers and chief ministers of other BJP ruled states are attending the swearing-in ceremony of Thakur.
The ceremony began at 11 am at the aforementioned venue which has been decked up with BJP's flags and cutouts of Thakur, PM Modi and Shah.
Security had also been tightened at the ridge ground and around 1,000 security men have been deployed along with intelligence men in plain clothes.
According to a PTI report, DGP Somesh Goyal said that sharpshooters have been stationed at several locations and all entry points at interstate borders are under surveillance.
The local administration has also blocked the entry of heavy vehicles in Shimla and limited the movement of light vehicles.
The report also added that central ministers including Arun Jaitley, Sushma Swaraj, Nitin Gadkari, Thawar Chand Gehlot and chief ministers like Yogi Adityanath, Shivraj Singh Chauhan, Dr Raman Singh, Vasundhara Raje, Manohar Lal Khattar, Trivendra Singh Rawat, Pema Khandu, Vijay Rupani, N Biren Singh, Devendra Fadnavis, Raghubar Das and Sarbananda Sonowal will be present at the event.
Tourists object to elaborate arrangements
The oath ceremony, which is witnessing the presence of several eminent political leaders increasing the need of elaborate security measures, has not gone down well with tourists in the hill station. "The security checks and barricading are hampering the movement of pedestrians," Ravinder Kumar, a visitor from Chandigarh, was quoted as saying by Hindustan Times.
"Shimla town has only one open space and that too has been turned into a fortress," another tourist Mohit Chauhan added.