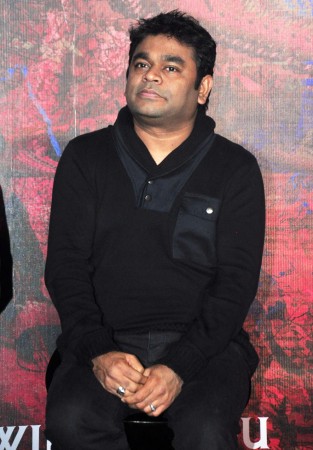 The trailer of the documentary "Jai Ho" based on the life and music of Oscar winner AR Rahman has been released. The two-and-half minute trailer takes the audience through glimpses of the 60- minute documentary which covers the life, music and concerts of Rehman and anecdotes of people who have worked with the maestro.
"Jai Ho", directed by well-known documentary film maker Umesh Aggarwal was recently premiered at The Museum of Moving Image in New York. The event was curated by Scott Foundas, Chief Film Critic of entertainment trade magazine "Variety" and attended by the director and Rahman, who later participated in the discussions.
The screening received a standing ovation from the audience.
"The premiere, which was attended by Rahman himself, opened to a full house despite the freezing cold (-20 C) in New York! Not just that, the 60-minute film received a standing ovation from the audience at the end," reported Money Life.
The documentary, which will feature various concerts, style of music, life, family, close friends and his associations, has been shot extensively in London, Los Angeles, Mumbai and Chennai.
"Jai Ho" will also feature individuals who worked with Rahman including Mani Ratnam, Ram Gopal Varma, Subhash Ghai, Ashutosh Gowarikar, Danny Boyle, Andrew Lloyd Webber, Shekhar Kapur, Alka Yagnik and Hariharan.
"I don't know any other composer who's really like him. You can always tell one of his songs," says renowned composer ad theatre director Andrew Lloyd Webber in the trailer.
Filmmaker Mani Ratnam says it is never a cakewalk working with the 'Mozart of Madras'. Another renowned filmmaker Shekhar Kapoor is seen talking about Rahman's style of music where he says "seemed to go from Western to Indian and back to Western classic."
The director of "Jai Ho" Umesh Aggarwal is known for his "Brokering News –Media, Money and Middlemen" which focussed on the concept of paid news in India.
"Jai Ho" has been produced by Public Service Broadcasting Trust (PSBT) and Public Diplomacy Division of the Ministry of External Affairs (MEA). The first screening of the documentary in India will be held in New Delhi by April.