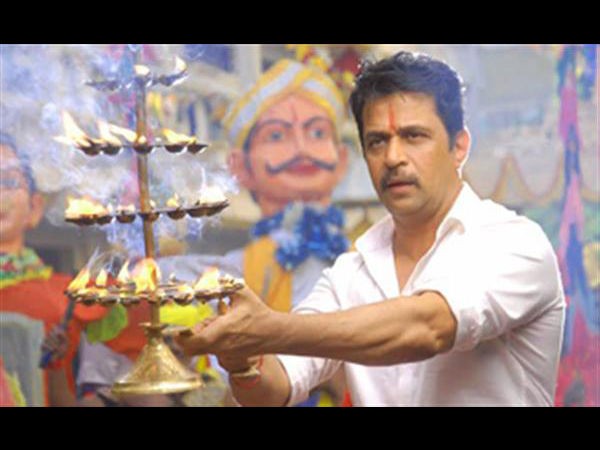 Arjun Sarja is back with his latest Kannada movie "Jai Hind 2" aka "Abhimanyu". The movie is simultaneously made in Tamil, Telugu and Kannada.
The Tamil Action King has opted for a message-oriented movie this time. He has taken inspiration from former Indian President APJ Abdul Kalam, who wants to see India becoming a superpower by 2020 through education.
Plot: A hardware techie cum karate trainer Abhimanyu stands up for a cause after witnessing a student's family committing mass suicide after they failed to enroll the kid in a private school. With the support of his friend, played by Surveen Chawla, he fights for the nationalisation of education, and gets good encouragement from the media. How he succeeds in his mission forms the crux of the story.
"Jai Hind 2" is getting mixed reviews from various critics. On an average, people are rating the multilingual movie with 2.5 to 3 ratings.
"The film is good for three reasons. First, the basic question of education that is not usually tackled in Kannada films. Second, Arjun's enduring charm with his action that can give any 'six or eight-packed' superstar some reality check. Third, the narration. Arjun has a grip on it for the most part and the weak scenes and dragging flashbacks in the first half will be forgotten," the Bangalore Mirror reviewer writes.
The Hindu reviewer says, "It is the kind of film about which you shrug and say, "Well, if you liked Jai Hind..." This isn't exactly a sequel (the characters are different) but it's suffused with the same vibe: how to do your bit for the nation while demonstrating your prowess in the martial arts. Don't laugh. At least I didn't during the action sequences, which are pretty well done. Arjun looks amazingly fit, and he actually seems to be executing these gravity-defying moves, without the help of wires.
Also read the Twitter comments posted by audience on the Tamil, Telugu and Kannada versions of the film.
Shashiprasad SM Wrote
#Abhimanyu - A film made with a good purpose. Think Big for an equal n qualitative educational reform, says Action King. My take a good 3.5*
Karate skills and tremendous physique of Action King Arjun Sarja at this age surely puts so called young'stars' to shame!!
Vignesh Tweeted
For Arjun The word action king is an understatement. Terrific action skills even at this age too. #JaiHind2
Telugustates Posted
#JaiHind2 : Must watch movie for action king Arjun Fans . Movie on, a common man fight on Present education system .
Only Sandalwood Wrote
Commercial film blended with social responsibility #Abhimanyu,released today & getting good response from everywhere.
Bharat BK Tweets
watched #Abhimanyu. What a great theme you came up with
Bhakta Wrote
#JaiHind2 might be preachy but a well-made movie. There is a strong message.
#JaiHind2 hats of to Arjuna for making a wonderful movie.
Sreedhar Pillai Wrote
#Jaihind2 - 2.25/5. Predictable & long winded. Looks like scenes from earlier Arjun films put together & problems of a bilingual-lip sync.
#Jaihind2 - 2.25/5. 1st half preachy & more of a tear jerker. The best moments when Arjun flexes his muscles. Climax action scenes terrific.
Shekhar Wrote
#JaiHind2 has got brilliant story and Action king Arjun's fights are big attraction of the film. Don't miss the movie if you action lover.