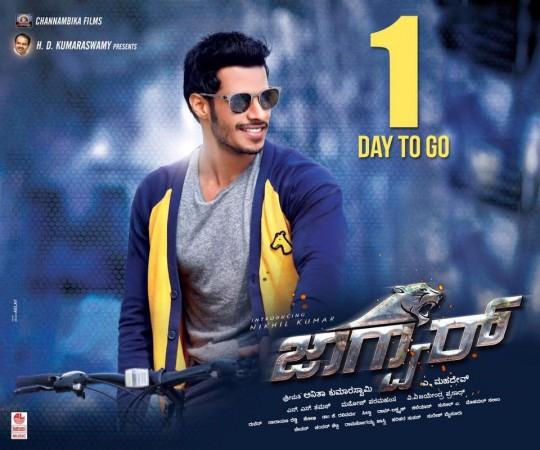 Nikhil Kumar, the son of former Karnataka Chief Minister HD Kumaraswamy and grandson of former Prime Minister HD Deve Gowda, is making his acting debut with the much-awaited Jaguar. It is a bilingual movie, written and directed by debutant Mahadev, that is being simultaneously made in Kannada and Telugu.
Kumaraswamy himself has produced the film under his home banner of Channambika Films. Deepti Sati has paired up with Nikhil Kumar for the lead roles. Jagapathi Babu, Brahmanandam, Sadhu Kokila, Sampath Raj, Kavitha Radheshyam, Ramya Krishnan and Avinash play key roles in the film. Tamannaah Bhatia, who is popular with the masses for her ravishing looks, has performed an item number, which is one of the attractions in the bilingual film.
Leading South Indian musician S Thaman has composed the music, while Manoj Paramahamsa has handled the cinematography and Ruben has edited the film. S Vijayendra Prasad, the writer of blockbusters movies like Baahubali – The Beginning and Bajrangi Bhaijaan, has written the story.
The movie has created a positive buzz through its teaser, trailer and audio release. Viewers have pinned high hopes on the film as it is the launchpad of a former chief minister's son. Will it live up to the viewers' expectations?
Story:
Nikhil (Krishna) joins a medical college and he falls in love instantly with Priya (Deepti Sati). On the other side, Shauri Prasad (Sampath Raj)'s TV channel is hacked to live telecast the murder of a judge. Not surprisingly, it is the hero, who is done it in a masked avatar.
Soon, the audience realise that the hero has a bigger plan to destroy media baron Shauri Prasad's empire. What happens next should be seen on-screen. Jaguar is a revenge drama loaded with eye-pleasing visuals and fantastic action sequences. Nikhil's energy levels and performance have been praised by the audience.
The movie has opened to mixed reviews although the viewers have given thumbs up to Nikhil's performance: Below, read the viewers' comments:
Nikhilreddy: It's Interval, Good first half, good fights and dance #jaguar Kannada
Finished, Hero debut with a bang, Mind blowing Action sequence, Superb 2nd half, Good comedy, Sadhu Rockzz #jaguar movie
Happiness is watching family audience and girls in early morning show 6am #jaguar movie #Kannada #Bengaluru @cineloka @chitraloka
Priyanka: #Nikhil has done a good job in his debut outing. #Jaguar
Rate him high for his dancing skills and actions. #Jaguar
Physique is good and seems like has a bright future ahead if he works on his acting skills. #Jaguar
#Jaguar is an average entertainer. Rating- 2.75-5
Cineloka: Here's a pick of dialogues : "There are no news channels,There are only Entertainment channels". #Jaguar
Huge Cheers & Whistles from Audience when Dialogue ' En Ninge PM/CM Level security Beka??' To #NikhilKumar
S Shyam Prasad: Action packed second half saves the film. Best debut by a politician's son since Kumar Bangarappa. Interval. Just Okay first half.
Chandrashekar: #Jaguar A good attempt.Nikhil is impressive.Stunts are too good.Easily watchable 3.6/5. Nikhil intro is the best part of the film.Don't be late to theatre. #Jaguar
MAYUR STUDIOS™: #Sandalwood : #Jaguar Impressive debut by @realnikhilkumar .Superb acting,great dialogues,Mindblowing stunts,Super comedy..Must Watch 4*/5*
Vinu048: #Jaguar .. Energetic Young Hero @RealNikhilKumar .. Lovely @DeeptiSati .. Well Done..
Kannada Silver Screen: #Jaguar First half is gripping n engaging ,#Nikhil is Just bindblowing in his first debut movie kudos to his perfection and dedication #Kannadasilverscreen Exclusive
AHF: Routine revenge drama with a couple of well executed action sequences. Below average #Jaguar
Halena: #Jaguar watchable rich visuals with poor screenplay n direction
Marthish S: #Jaguar - 1st Half is Decent, 2nd Half is Excellent. #NikhilKumar's Talent with Right Intent gets Proper Treatment from Audience. Super.