"Mujhe lene wapas kab aaoge?" asks the little Jagga in his sing-song voice. "Chhe mahine, saat din aur aath ghante," replies his father Badal Bagchi.
And then he never comes back, thereby leading to the entire premise of the Ranbir Kaboor-Katrina Kaif-starrer Jagga Jasoos, whose similarities to Tintin are already wowing netizens and film buffs worldwide.
But back to Jagga Jassoos: Ever caught yourself wondering why Jagga's father looks familiar?
This is the time to refresh your memory about a serial killer who had his quarries drop dead even before you could say: "Nomoshkar. Ek minute?"
Remember Bob Biswas?
To anyone not quite familiar with Bengali cinema and television, the name Saswata Chatterjee might not exactly ring a bell.
But Bob Biswas might. He was the contract killer from Kahaani who developed a small cult following of his own, and even sparked memes and demands for a sequel starring him!
Even Sujoy Ghosh — the man who directed the Vidya Balan-starrer that became both a critical and commercial success — had been surprised by the response to Bob Biswas.
So much so, that he had back in 2013 even hinted that the character might not be dead — as we had been led to assume towards the end of Kahaani — but might actually return for a sequel.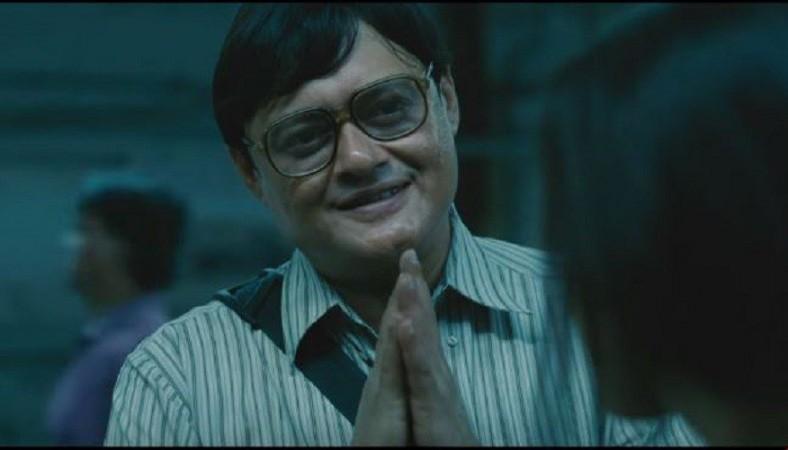 Acclaimed actor
Bengalis, however, will immediately recognise Saswata as an actor who has appeared in many a popular TV serial and film.
Son of acclaimed Bengali actor Subhendu Chatterjee, this 46-year-old had started off playing the role of Tapesh Ranjan Mitra aka Topshe — the sidekick to popular Bengali fictional detective Feluda, a character created by filmmaker-author Satyajit Ray himself.
Saswata's first outing as Topshe was on TV, and under the able direction of the Oscar-winning director himself.
The actor has since gone on to do many more films and TV serials in Bengali, and played acclaimed roles like Ajit Bandopadhyay, the assistant of Byomkesh Bakshi — another Bengali detective who was popularised in Hindi by Rajit Kapoor, who played the role in a Doordarshan serial.
Even cameos by the actor have been greatly enjoyed by people. A memorable one is the characterof the backstabbed gangster who returns as a ghost who helps out fellow spirits in the critically-acclaimed popular comedy Bhooter Bhabishyat.