RATING: 2
MOVIE: Jagga Jasoos
CAST: Ranbir Kapoor, Katrina Kaif, Saswata Chatterjee, Saurabh Shukla
DIRECTOR: Anurag Basu
GENRE: Bollywood musical thriller
After the critically acclaimed Barfi, Anurag Basu has now come up with Jagga Jasoos. While Ranbir Kapoor's characterisation appears to be somewhat similar in both the movies, Jagga Jasoos is much amateurish and silly.
STORYLINE
An orphan child Jagga, who has an extreme stammering issue, wins the heart of a good but highly troubled man Badal Bagchi (Saswata Chatterjee), following which the latter adopts him. All was well in their lives until circumstances force Bagchi to go on a secret mission, leaving Jagga alone again.
Many years pass by as Jagga (Ranbir Kapoor) kept waiting for him, and suddenly, he gets the news of Bagchi's demise. Heart-broken Jagga then sets off to confirm if the news is true or a hoax. Journalist Shruti (Katrina Kaif), who was once saved by Jagga from militants, also accompanies him in his search for Bagchi.
However, Jagga and his partner dig into a massive international arms smuggling racket during the course of his quest, and the two keep getting into deadly situations.
PERFORMANCES
Ranbir is a good actor, and he proves his skills in Jagga Jasoos too. Although one can see many similarities between his characters in Barfi and Jagga Jasoos, Ranbir manages to add some funny moments to the movie.
Katrina's performance is nothing extraordinary but she too will bring some smiles with her cuteness. Saswata does justice to his role, and so does Saurabh Shukla who plays the character of a baddie in the movie. Nawazuddin Siddiqui has a special appearance in the movie, and believe it or not, he is double-headed, literally.
POSITIVES
Jagga Jasoos has a couple of funny sequences, which help in cutting the monotony. Ranbir and Katrina's chemistry looks adorable, and also the film has been shot in some exotic locations.
NEGATIVES
Director Anurag Basu attempted to make a first of its kind musical spy thriller in Bollywood, but the treatment appears to be too childish. While the numerous songs soon become tedious, the plot of the movie many a time gets jumbled up. Also, there are many sequences like the lead characters flying an aircraft without any know-how, and riding on wild ostriches which only add to the silly plot.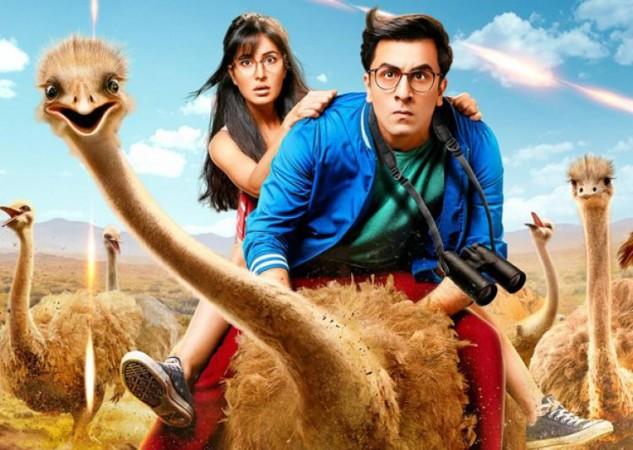 VERDICT
Jagga Jasoos is so silly and amateurish that it may amuse kids but will leave you bored if you are 18 plus.