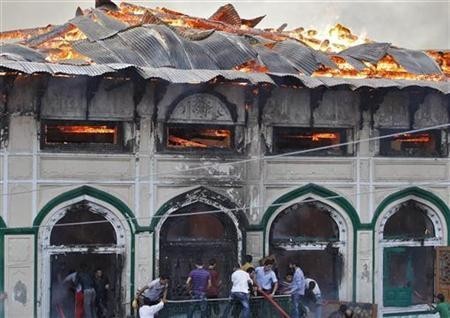 Families of the 18 killed in the deadly gas pipeline blast in Nagaram village in East Godavari district of Andhra Pradesh should be paid ₹1 crore as compensation, demanded YSR Congress Party (YSRCP) president YS Jaganmohan Reddy on Saturday.
Reddy visited the blast site in Nagaram village and consoled the family members of the bereaved.
"YSRCP MPs would submit a memorandum to the concerned ministry seeking adequate compensation to the injured and the farmers whose fields got destroyed in the fire mishap," Deccan Chronicle quoted Reddy.
Prime Minister Narendra Modi has already announced an ex-gratia of ₹2 lakh to the kin of each killed in the mishap.
The blast occurred due to the leakage of gas from a GAIL pipeline on Friday.
The YSRCP leader said that both governments at the Centre and the state should bring pressure on Gas Authority of India Limited (GAIL) and Oil and Natural Gas Corporation (ONGC) to pay ₹1 crore as compensation to the families of those killed in the mishap.
The injured must also be compensated well, by providing jobs in the government sector, Reddy demanded.
It has been reported that when a tea vendor lighted his stove in the morning, a massive blaze sparked and caused the death of 18 people. The blaze, fuelled on the gas present in the air, instantly spread to the nearby buildings, coconut groves and other properties in the radius of 1.5 kilometre.
Reddy said the pipeline blast was a result of the negligence on the part of the PSU companies and the gruesome accident was not unprecedented.
"Oil companies are reaping all the profit and locals are left to face such a disaster... There is no compensation to the seismic disruption and environmental hazards," Reddy pointed out.
The YSRCP leader stressed that there had been frequent complaints against the public sector undertaking companies about gas leakages, for the past one year. But the companies blatantly neglected the local people's complaints. Such gas leakages can ignite massive fire mishaps even with a small spark, Reddy warned.
He alleged that the companies' management was not serious about the local complaints and issues, and attended the complaints only half-heartedly.
After recording the statements of the eyewitnesses of the ghastly mishap and victims' relatives, the police on Saturday, registered a case of negligence against GAIL.