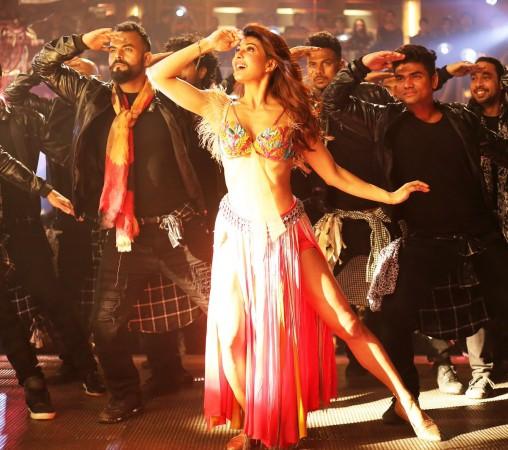 The makers of Baaghi 2 have released the much-awaited song video Ek Do Teen featuring Jacqueline Fernandez. It's a recreation of the iconic Madhuri Dixit song from 1988 film Tezaab. Although Jacqueline looks sexy in the song video, she is nowhere close to Madhuri's grace.
After Mundiya Tu Bach Ke Rahi, the makers of Baaghi 2 have come up with another remixed version of a popular old song. They had raised curiosity among people with a teaser of the new song video.
However, the new version of Ek Do Teen has just ruined another classic. Jacqueline undoubtedly has a great body and cool dance moves, but when it comes to expressions, no one can match the level of Madhuri.
While it was difficult to take your eyes off Madhuri in the original Ek Do Teen song, Jacqueline lacks expressions and grace to make the new version look appealing. Although it's not really fair to compare Jacqueline with a legendary actress like Madhuri, comparisons are bound to happen when you opt to recreate such an iconic song.
Many social media users have been saying that this new version of Ek Do Teen has simply killed the beauty of the classic song. However, a section of social media has also praised Jacqueline's moves and hotness in the song video.
Ruined it as usual Ruined my fav fucking song

Madhuri was Elegant even in that item song but jacqueline pakka Bar dancer lag rahi hai ?‍♂️

Baaghi 2: Ek Do Teen Song | Jacqueline Fernandez | https://t.co/rLSrGk7NE6

— Negative (@SurrealZak) March 19, 2018
Ek Do Teen has been successfully ruined. Sounds like noise. Thank you, Bollywood...NOT.

— Divya Vinekar (@WannabeSanyasin) March 19, 2018
How come #ekdoteen is suddenly an Item Song??? Of all the songs they have taken THIS iconic song to ruin !! Below average it is and I cannot see / listen to it.
.
.
I'm shocked and angry !!

It belongs to #MadhuriDixit ❤only

— Urja (@iUrja) March 19, 2018
They just ruined #EkDoTeen so mercilessly? can Bollywood please stop with this whole trying to recreate iconic songs thing. You cannot recreate it instead just ruining memories here.

— WittyTonks (@wittytonks4ever) March 19, 2018
While the original song was sung by Alka Yagnik, the revised version has been helmed by Shreya Ghoshal. Sandeep Shirodkar has recreated the music of the song, which was originally composed by Laxmikant Pyarelal.
Some of the viewers of the new song video applauded Shreya's voice saying that she is the perfect one to recreate the track. However, Jacqueline could not match up to the expectations, and we can only blame Madhuri for setting the bar so high.
Watch the song video Ek Do Teen from Baaghi 2 below: