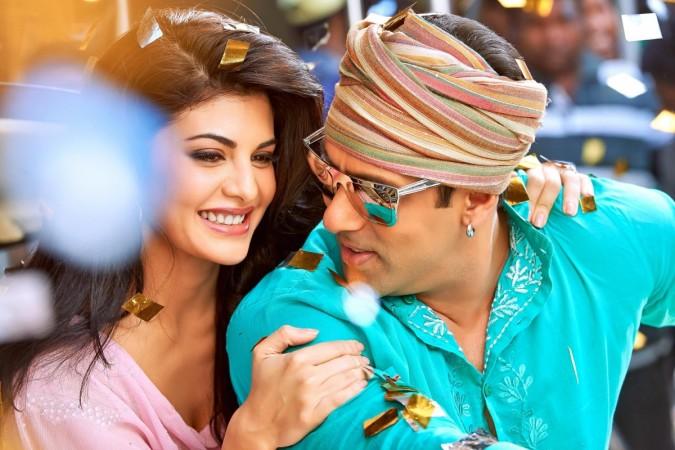 "Roy" actress Jacqueline Fernandez recently said she is single and very bored. Now, this statement questions Salman Khan's heart-warming gesture on a TV show, ahead of their blockbuster release "Kick", when he addressed the actress as JFK (K for 'Khan').
According to an IANS report, the superstar was seen pampering the gorgeous diva on the sets of "Cinestars ki Khoj". It was also reported, that the senior star came to her rescue when she had to remark on a particular performance in Hindi. And their crackling off-screen chemistry was what triggered dating rumours.
Jacqueline never fails to praise her co-star and in an interview with The Times of India she said how Salman was the most handsome man in Bollywood. "Honestly, Salman is the most handsome man in the industry; Arjun Rampal comes second," she said.
Talking about her upcoming film and co-actors, the actress said both RK and Salman had the passion for acting adding that they are very genuine. "Salman has got more muscles; he is more bulky than Ranbir. They have very different body types," she made an interesting comment on their body types.
While the actress reportedly dated filmmaker Sajid Khan for three years, Jacqueline is now single, but also very bored.
"I am pretty single (laughs). Trust me. And I am also very bored. Being single, I thought would be fun, but it is terribly boring. And I am a romantic but only when I am in love. I can't force it otherwise. When I am in love, I am ridiculously and hopelessly romantic," TOI quoted her as saying.
In other news, her previous relationship didn't end peacefully as Sajid had become over protective of her which led to constant arguments and also affected the actress' career as she couldn't take up roles without his consent.
"He was always protective, but at times too possessive of his girlfriend. Jackie brought out his prudish side... he had issues with the way she dressed, her roles... everything ," TOI quoted a source as saying. The couple parted in early 2013.