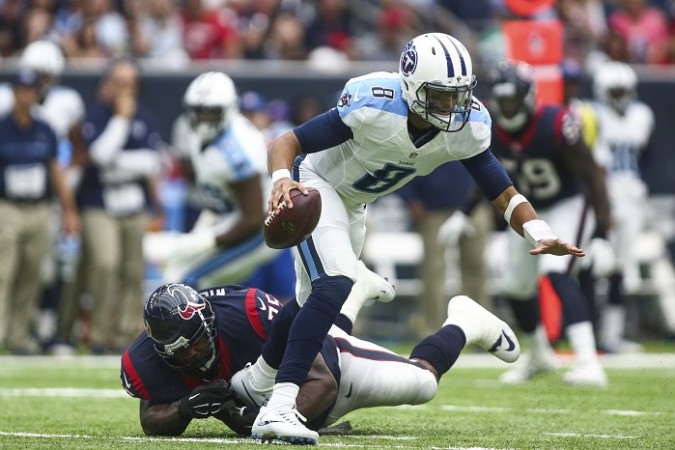 Thursday Night Football rolls on with a matchup between the Jackson Villa Jaguars and the Tennessee Titans at the Nashville Stadium in Nashville. Both teams have struggled to put a run together so far, so they will look at this game as an opportunity to get back on course.
The Titans are 3-4 having played seven games, while the Jaguars can get to that record with a win on Thursday. The target for Tennessee will be to go back to .500 before thinking of greater and bigger things.
"There's a lot of teams that are all sitting here all clumped together (in the same division)," Titans head coach Mike Mularkey said. "Somebody's going to come out of it. There's going to be probably more than one come out of this thing at some point and win a bunch of games. This is important.
"Every game is important, obviously, but this one's another one. We've got to win a division game and stay in the pack and hopefully come out of it at some point."
Tennessee were on a two-game winning run going into the game against the Indianapolis Colts on Sunday and with a firm lead in the fourth quarter, it looked like that streak would be extended to three. However, the Colts produced a great comeback to scupper the Titans' hopes of going 4-3 for the season.
If Tennessee are to come up trumps at home against Jacksonville, Marcus Mariota will need to have a solid game and the quarterback will want to put up a similar performance from last season when he threw for 268 yards and also had a memorable 87-yard touchdown run against the Jaguars.
Jaguars coach Gus Bradley is wary of the threat posed by Mariota, both with the throw and the run. "I think we all know that he can run a long ways and put a lot of hurt to a defence," Bradley said of Mariota. "I think that's an important part of it.
"He's so athletic and he's so fast that he really puts a lot of strain on a defence and then his ability to throw. He's accurate, he's got good timing, the decision making part of it. I know he's a young player that is constantly improving."
Where to Watch Live
Denver Broncos vs San Diego Chargers is scheduled for an 5.25 pm local time (8.25pm ET, 1.25 am BST, 5.55 am IST next day). Live Streaming and TV information is below.
India: TV: Sony ESPN and Sony HD. Live Streaming: Sonyliv.
USA: TV: NFL Network. Live Streaming: NFL Gamepass (also available for international audiences).
Canada: TV: Sportsnet 1. Live Streaming: Sportsnet Now.
UK: TV: Sky Sports 1. Live Streaming: Sky Go.
Australia: TV: ESPN. Live Streaming: Foxtel.