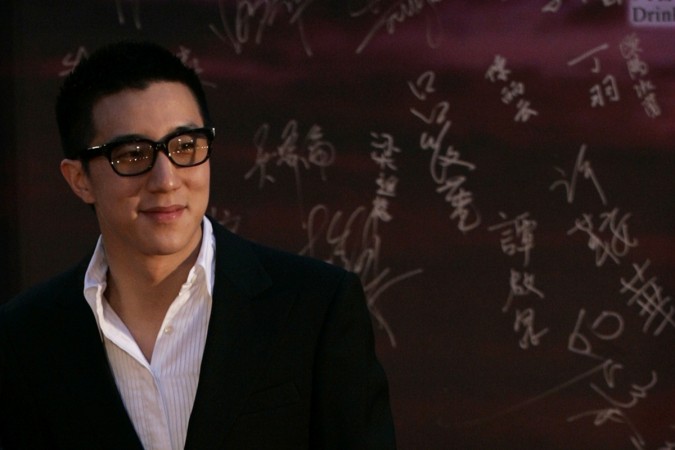 Jackie Chan's son Jaycee Chan was among the several suspects detained in drug-related offences in Beijing, China, on Thursday.
Beijing police made the announcement on late Monday through it official microblog, identifying those arrested only by their surnames, nationalities and ages.
Jaycee, 31, was detained by Beijing police along with his friend, 23-year-old Taiwanese movie star Kai Ko Chen-tung, reports said.
Both the actors tested positive for marijuana, and they even confessed to using it, police said in a statement, according to the South China Morning Post. In the drug bust, police also recovered more than 100 grams of marijuana from Jaycee's house.
Jaycee also faces charge for "providing a shelter for others to abuse drugs," and if convicted, he will face a prison term of three years, according to the report.
Two other people detained in the drug bust has been charged for selling drugs, which is a far more serious crime than consuming drugs. Taiwanese actor Ko has been accused of drug consumption, and he faces a less severe penalty of "administrative detention", which lasts up to 15 days.
In recent weeks, a number of actors have been arrested on various drug related charges, and the detention of Jaycee and Ko follows the announcement made by 42 entertainment and performance agencies, who have vowed to boycott celebrities who use drugs.
Meanwhile, Jaycee's arrest is sure to cause serious embarrassment to his father, who was named an anti-drug ambassador in 2009. Ko, too, was part of an anti-drug campaign a couple of years back.
The management agencies of both Jaycee and Ko have come out with statements apologizing for the actors' behaviour.
Jaycee's management, M'Stones International, apologized to the public on his behalf through a statement on their website. The firm has vowed to "supervise his rehabilitation and help him return to the right path."
In a CCTV footage, Ko, too, is seen apologizing for setting a bad example. "I feel very regretful, very sorry to all the people who support me... I've been a very bad example, I've made a very big mistake," Ko said.