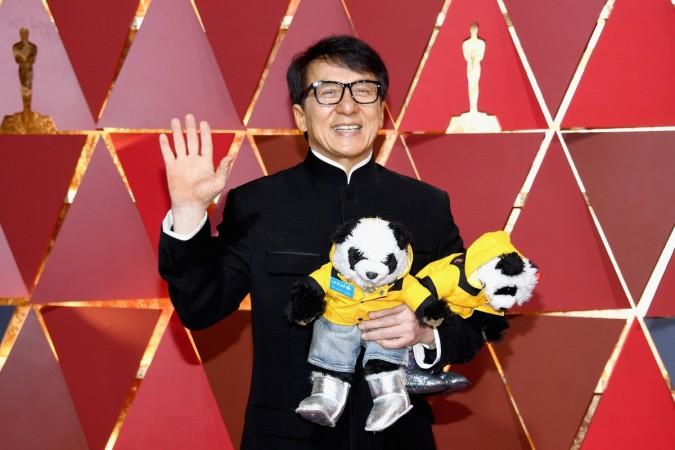 The Chinese New Year 2018 has begun and we have entered into the Year of the Dog. On this occasion, Hong Kong actor and martial arts legend Jackie Chan took to Facebook to stress the importance of being kind to stray animals and urge people to adopt pets instead of buying them.
The Drunken Master actor admitted, that he misses his two dogs, JJ and Jones when he is away from Hong Kong. He said the two golden retrievers have been his constant companions for many years but are now becoming aged and sick.
Although his two pets are suffering from many health problems and often have to stay away from their master, Chan believes that they are lucky compared to the stray dogs who have never seen love or care from humans.
While showing support for non-profit animal-aid organization PETA (People for the Ethical Treatment of Animals) in Asia, he appealed to pet lovers around the world to opt for adopting unloved, stray animals instead of buying commercially bred ones.
He also expressed hope that people would be more kind and compassionate towards stray dogs, cats and other such animals.
Jackie Chan's appeal has wide social relevance as Asia records one of the highest numbers of animal abuse cases in the world and has far fewer laws for animal protection than other continents.
Chan's post and photos have moved his followers as several of them have commented, saying that he is their inspiration and they love him all the more for his compassionate nature and love towards animals. The post has been 'liked' for about 24,000 times so far, with more than a thousand shares and about 800 comments.
The actor concluded his heartfelt message by wishing everyone a wonderful Chinese New Year along with his pets JJ and Jones, as it is after all the Year of the Dog.
"May the year of the dog bring you good luck and prosperity," wrote Jackie on Facebook. "And may everything flourish in great ways."