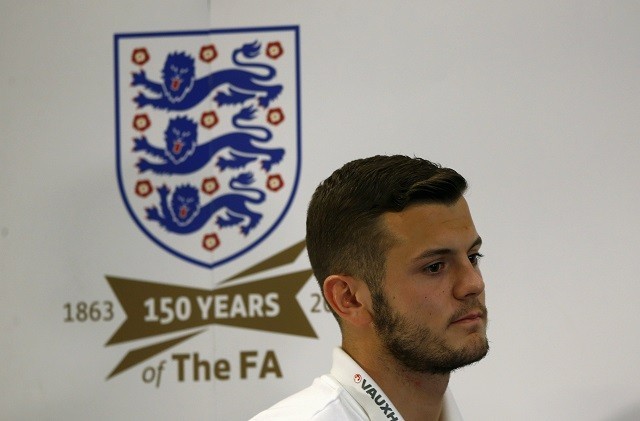 Arsenal and England midfielder Jack Wilshere is not a fan of inducting someone like Manchester United playmaker Adnan Januzaj into the England fold.
Speculation has been rife about Januzaj possibly, eventually, choosing to play for England, with the youngster set to become available for the country through residency.
The 18-year-old, who set the English Premier League alight with two goals for Manchester United in their 2-1 win over Sunderland last weekend, will be eligible to play for England if he stays in the country until February 2018, a far from foregone conclusion considering the amount of clubs already queuing up for his signature.
Januzaj recently rejected a chance to join up with Belgium, the place of his birth, for the World Cup qualifiers, saying he still needed some time to decide on his international future.
Januzaj is also eligible to play for Serbia, Albania, Turkey and Kosovo, an unofficial FIFA country.
Wilshere, though, would much rather see Englishmen playing for the country. "The only people who should play for England are English people," he said. "If you live in England for five years it doesn't make you English.
"If I went to Spain and lived there for five years I am not going to play for Spain. We have to remember what we are. We are English. We tackle hard, are tough on the pitch and are hard to beat.
"We have great characters. You think of Spain and you think technical but you think of England and you think they are brave and they tackle hard. We have to remember that."
Strange comments coming from an Arsenal player it must be said, with the Arsene Wenger-managed side far from your typical English football club. None of the English, or British core, are exactly hard tacklers either, and that includes Wilshere.
The midfielder also went on to say he prefers to have an Englishman managing England than one from another country, despite Italian Fabio Capello giving him his international debut and placing a lot of faith on him from a young age.
"Don't get me wrong, Capello did a lot for my England career," he said. "He bought me here, gave me my debut and stuck with me from a young age so he was a good manager.
"But I think it would be better if there was an Englishman."
Maybe that now infamous cigarette has had a little more of an effect on Wilshere, with the midfielder very much at the butt of many jokes from his Arsenal teammates on the training ground.
"It is non-stop," Wilshere said. "After the game on Sunday (against West Brom) the physio, Colin Lewin, said 'you smoked that shot.'
"When I am getting angry in training they say 'calm down, have a fag.'
"We move on eventually but everyone is going to make a joke of it and that's fine."
"It is not just players who make mistakes." he added. "If I get caught it looks bad but it's been dealt with now.
"I said before I am not a smoker. I don't smoke 10 a day as some have been saying. It was a mistake. I am a top athlete. I am not just a footballer.
"We have to be at the top of our game. I am playing with the best players -- Mesut Ozil, Santi Cazorla. You can't be slacking behind them."