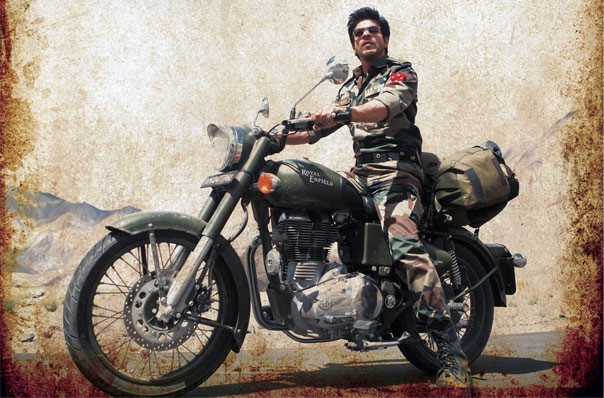 Bollywood superstar Shah Rukh Khan has finally spoken about the tussle between his upcoming film "Jab Tak Hai Jaan" and Ajay Devgn's "Son of Sardaar" which are releasing on the same day.
On Friday, the superstar said that he was thankful that he was not directly involved in the legal matter between the producers of both the films.
Actor-producer Ajay Devgn has filed a complaint with the Competition Commission alleging that Yash Raj Films is using its dominant position in film industry by promoting Yash Chopra's last directorial movie "Jab Tak Hai Jaan".
Ajay has served legal notice to YRF alleging that "the production house entered into a tie-in arrangement with the exhibitors in a manner that it has made it compulsory for the exhibitors to exhibit the untitled movie of YRF on Diwali day and two weeks thereafter with all 4 shows."
"A tie in arrangement in the present circumstances of YRF of compulsory showing an unnamed movie on a date fixed in advance with the exhibitor while entering into an arrangement to show the film "Ek Tha Tiger" itself violates the provisions of the competition Act, 2002 more particularly Section 3," according to official statement from the lawyers of Ajay Devgn's films obtained by Bollywood Hungama.
However, Shah Rukh responded to the news saying that he hopes the tussle gets resolved between the producers.
"I was reading about it today...there are enough screens for both the movies. This is all legal matter and I am no one to speak anything about it. Thankfully it is not my production house. Hope the issue gets resolved and both the films do well," Shah Rukh told reporters at a press meet on his 47th birthday.
When asked if there is any problem between him and Ajay, Shah Rukh replied, "Why will I have any issue with anyone, or against anyone? I don't have any problem with anyone."
Also Read: 'Jab Tak Hai Jaan' vs. 'Son of Sardaar': Ajay Devgn Sends Legal Notice to YRF