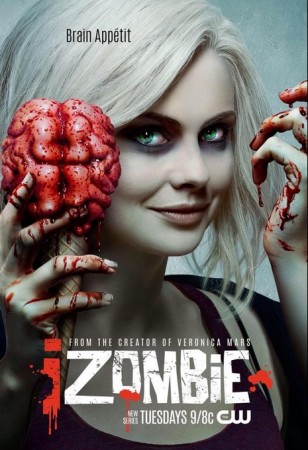 With "The Flash", "Arrow" and "iZombie"-- which will get a series premiere on 17 March --, The CW may be slowly metamorphosing into a channel dedicated to comic book series. The network is doing a great job at maintaining the authenticity of the literary works as well, garnering audiences who not only love TV shows, but also those who loved the famous comics.
"iZombie" follows the events in the life of Olivia "Liv" Moore (Rose McIver), who becomes a zombie and has to find a way to live with it, or be undead with it. Although her new status as a zombie inconveniences her initial plans to pursue the medical profession, her job at the Coroner's office gives her access to all the food she needs -- brains of dead people.
To keep her humanity intact, she restricts herself to feeding on the brains of the dead people. However, her new-found appetite for brains also gives her the ability to absorb the memories stored in them and imbibe certain characteristics of the person. She uses the side-effect to help solve homicide cases.
What separates "iZombie" from other zombie shows is that unlike "The Walking Dead" and "Grimm", the CW show is more comedic and has brilliantly written punchlines.
For example, the first thing Dr Ravi Chakrabarti (Rahul Kohli), a pathologist and Liv's boss, says on discovering her secret is, "I have so many questions... First, why the hot sauce? Is that a zombie thing?' Similarly, when Chakrabarti reveals to Liv that he was fired from the Centres for Disease Control and Prevention (CDC) and asks her if she wants to know why, she quips, "Because you believe in zombies?"
Being the only one to know her secret he does plan on protecting her, but being a medical examiner foremost, he hopes to study her condition and asks Liv, "Do you mind, if I run a cognitive evaluation before the end of your shift and get a few saliva samples?" "Mind? It's what I live for," she replies.
"iZombie" is a great show that is sure to catch the attention of audiences long before season 1 ends. Watch out for it on Tuesdays from 17 March at 9 p.m. on The CW following "The Flash".