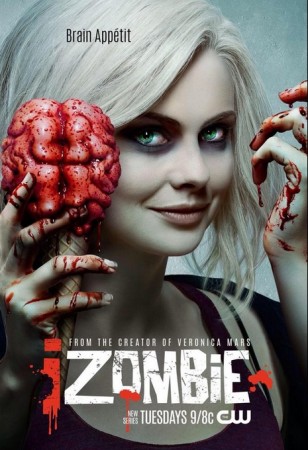 The CW network's newest breed of supernatural is premiering in TV screens on Tuesday, 17 March. "iZombie" is the story of Olivia "Liv" Moore, a promising medical student who has her entire life mapped out for her. Being betrothed to her charming soulmate Major Lilywhite and working day and night to earn her medical degree, Liv is fully embracing her life, when suddenly she doesn't have one anymore.
In an unforeseen twist of events, Liv, becomes half-alive and undead, making her a completely different person with no ambition. She breaks off her engagement for the fear of infecting her soul-mate with her "condition" and realises that the only way to retain her humanity is to consume brains.
She transfers from the medical residency to the city morgue, in order to get her stomach full, because as she says hunger is the first thing that comes to her mind when she sees a dead body. Liv goes on to find some level of peace and a new sense of purpose, in becoming the "dead, Alabaster badass".
By eating the brains of the dead, Liv also experiences "visions" or flashes of the corpse's memories, allowing her to help homicide detective Clive Babineauk solve their murders.
She also befriends and trusts her boss at the morgue, Dr Ravi Chakrabarti, who is also the only person who knows she is a zombie. The brilliant but eccentric doctor is fascinated by Liv's condition and encourages her to embrace her new condition.
New Zealand actress Rose McIver brings Liv to life – or the undead – in "iZombie", while Robert Buckley of "One Tree Hill" fame plays her ex-fiancé Major Lilywhite. Rahul Kohli is the funny and weird Dr Ravi Chakrabarti, as David Anders takes on the role of the entitled, rich Blaine deBeers, who is also a zombie like Liv and be the main antagonist of the series.
Watch out for 'iZombie" series premiere on 17 March, Tuesday, in The CW network.