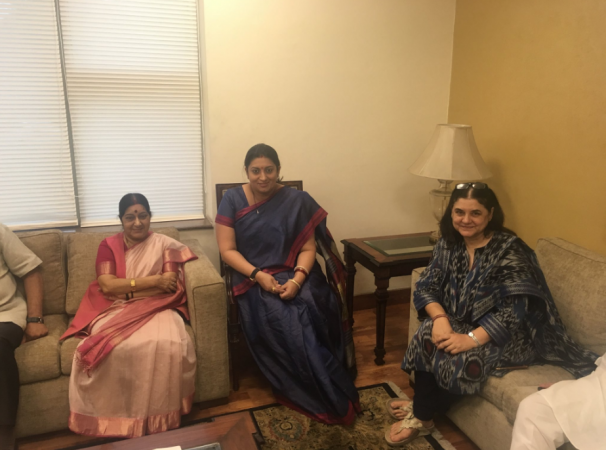 Union Textile Minister Smriti Irani, who was in constant news as Human Resource Development minister, has not backed down after she was handed over a quieter portfolio. She started a trend on Twitter and Facebook #IWearHandloom on Monday to show support to weavers of India.
The minister started the campaign for the handloom industry, the second largest employer in India after agriculture. More than 43 lakh weavers and allied workers are engaged in the industry, 78 percent of them being women.
The campaign, Irani said, "is a tribute to women who contribute to 15% of cloth production in India and 95% of world handloom production, it is saying thank you for their hardwork and dedication for keeping our traditions alive."
She shared the hashtag with an image of her wearing a blue silk sari that was handwoven in Bihar.
"I support Indian weavers, here's my #IWearHandloom look - Handwoven silk from Bihar," she said.
She also urged others to upload their images wearing a handwoven outfit and tag five friends so that they too would post their image wearing clothes made on a handloom.
The people she tagged included fashion designers Manish Malhotra, Anita Dongre and Sabyasachi Mukherjee, politician Laxmikant Parsekar, chef Kunal Kapur, and also the Fashion Design Council of India, Young Ficci Ladies Organistaion - YFLO Delhi and Delhi Crafts Council.
I support Indian weavers, here's my #IWearHandloom look - Handwoven Silk from Bihar. Share your look & tag 5 people pic.twitter.com/1NOuueJ0mS

— Smriti Z Irani (@smritiirani) August 1, 2016
Contributing to the campaign, Kiren Rijiju, the Minister of State for Home Affairs, and other eminent personalities shared their images wearing handloom clothes on Monday.
#IwearHandloom as any handwoven & handspun Khadi or handloom fabrics made out of cotton, silk or woolen are the best pic.twitter.com/pbYEz56XcE — Kiren Rijiju (@KirenRijiju) August 1, 2016
#IWearHandloom #support#Handloom #textile @MMalhotraworld @smritiirani pic.twitter.com/nhgOfMNMWs

— Manish Malhotra (@ManishMalhotra) August 1, 2016
#IWearHandloom Proud 2 b in my handwoven jacket. Keeping our traditions alive. @smritiirani pic.twitter.com/cn3nHloD0S — Amitabh Kant (@amitabhk87) August 1, 2016
Wearing Handloom makes u feel free&gives livelihood to our weavers
Handloom pehno,ekdum Free Ho jaao!#IWearHandloom pic.twitter.com/u3L2qfyL5o

— Virender Sehwag (@virendersehwag) August 1, 2016
#IWearHandloom - a great initiative by @TexMinIndia to support Indian handloom sector @smritiirani pic.twitter.com/iumQkBE8zp — Piyush Goyal (@PiyushGoyal) August 1, 2016
In the family. #IWearHandloom My granddaughter too! pic.twitter.com/pK4beSUQHd

— Nirupama Rao (@NMenonRao) August 1, 2016